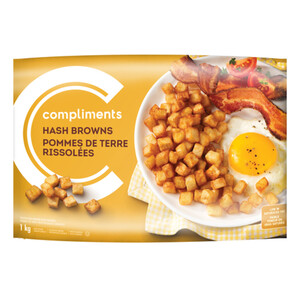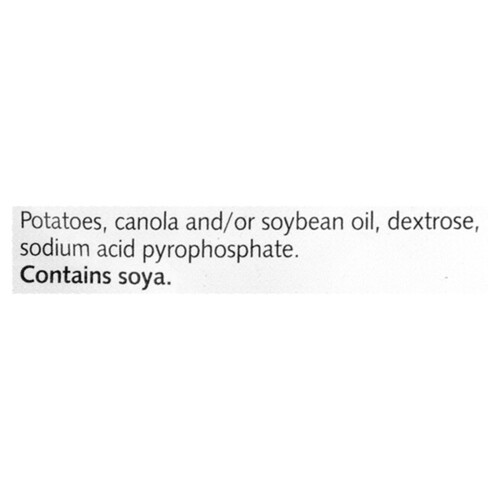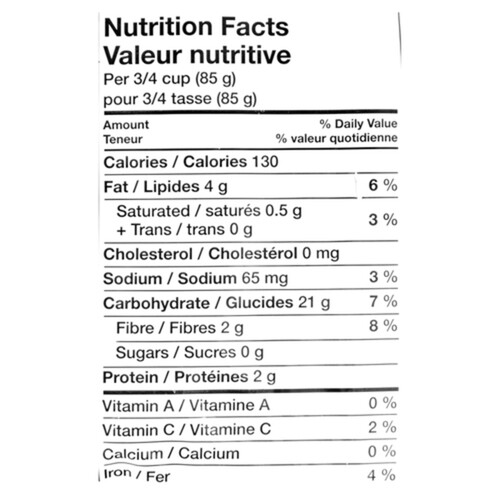 Compliments Fried Cubed Potato Hash Browns 1 kg
Product Information
Cooking & Usage Tips
How to prepare Conventional oven Cook from frozen. Spread hash browns on baking sheet and cook on the middle rack of a pre-heated oven at 230°C (450°F) for 14 to 16 minutes, turning once halfway until golden brown. Since ovens vary in temperature, these are guidelines only. Pan fry Cook from frozen. Add hash browns to 15 to 30 ml (1 to 2 tbsp) vegetable oil. Fry over medium heat for 8 to 10 minutes until golden brown.
Ingredients
Ingredients: Potatoes, Canola and/or soybean oil, Dextrose, Sodium acid pyrophosphate.
Storage
Storage Keep frozen until ready to use.
Preparation And Usage
Safe handling Do not refreeze thawed product.
Nutritional Information
per 3/4 cup (85 g)
| Amount                               | % Daily Value |
| --- | --- |
| Calories 120 | |
| Fat 4 g |                      7 % |
|  Saturated 0 g |                      2 % |
|  + Trans 0 g | |
|   Omega-6 0 g | |
|   Omega-3 0 g | |
|  Monounsaturated Fats 0 g | |
| Cholesterol 0 mg | |
| Sodium 20 mg |                      1 % |
| Potassium 300 mg |                      9 % |
| Carbohydrate 20 g |                      7 % |
|  Fibre 2 g |                      8 % |
|  Sugars 0 g | |
|  Sugar Alcohols 0 mg | |
| Protein 2 g | |
| Vitamin A |                      0 % |
| Vitamin C |                      0 % |
| Calcium |                      1 % |
| Iron |                      2 % |