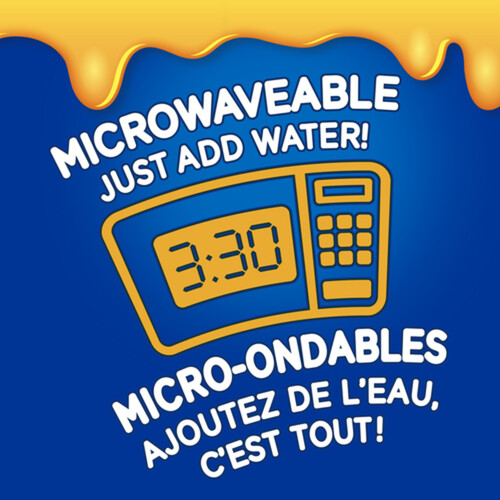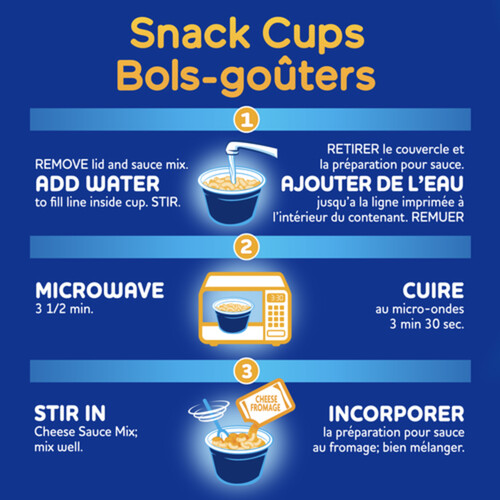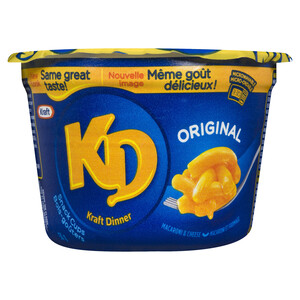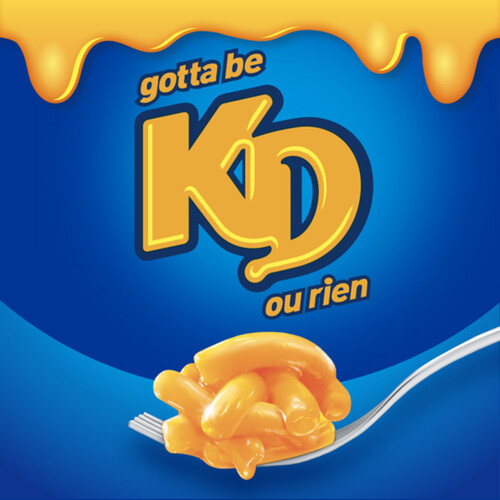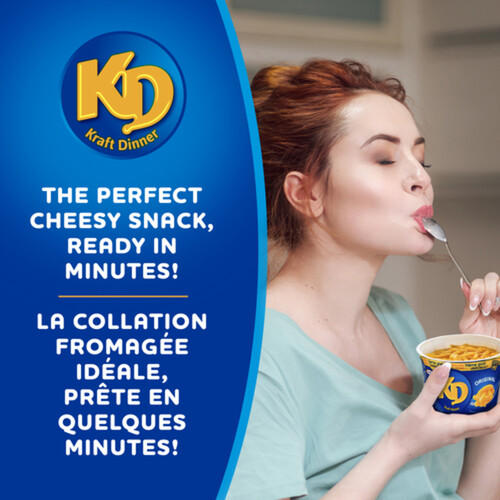 Kraft Dinner Macaroni & Cheese Snack Cups Original 58 g
Product Information
Kraft Dinner Macaroni & Cheese Snack Cups are an easy, quick meal anytime of the day. Our mac & cheese comes wrapped in individual, microwaveable cups that can be prepared in minutes. Our Kraft Dinner Snack cup requires only 3 1/2 minutes in the microwave and you've got a delicious hot bowl of Kraft Dinner! Our microwavable KD Snack Cup is easy to be carried along with you, wherever you go. From lunch to dinner or late night snacking, just pour some water and watch the magic right in front of your eyes. The classic smiling macaroni drenched in creamy cheese sauce will make you fall in love with every bite. For over 75 years, Kraft Dinner has been Canada's family favourite, bringing gooey, cheesy smiles to peoples' faces everywhere. It's gotta be KD.
Product Features
One 58 g Kraft Dinner Original Macaroni & Cheese Snack Cup
Cooking & Usage Tips
Microwave - From Ambient Directions: Remove lid and Sauce Mix; set aside. Add Water to fill-line inside cup. Stir (Loose powder in cup is needed for proper cooking). Microwave uncovered on High 3-½ min. or until pasta is tender. (Microwave time may vary). Do Not Drain. Excess liquid is needed to make the Sauce. Stir in Sauce Mix until well blended. Sauce Mix until well blended. (Sauce will thicken upon standing). NOTE: DO NOT REUSE CUP. DO NOT LEAVE MICROWAVE UNATTENDED.
Ingredients
Tomato Paste (Made From Fresh Ripe Tomatoes), Liquid Sugar, White Vinegar, Salt, Onion Powder, Spices.
Nutritional Information
per Per Portion (58 g)
| Amount                               | % Daily Value |
| --- | --- |
| Calories 220 | |
| Fat 4 g |                      6 % |
|  Saturated 2 g |                      13 % |
|  + Trans 0 g | |
|   Omega-6 0 g | |
|   Omega-3 0 g | |
|  Monounsaturated Fats 0 g | |
| Cholesterol 5 mg | |
| Sodium 580 mg |                      24 % |
| Potassium 0 mg |                      0 % |
| Carbohydrate 40 g |                      13 % |
|  Fibre 1 g |                      4 % |
|  Sugars 7 g | |
|  Sugar Alcohols 0 mg | |
| Protein 6 g | |
| Vitamin A |                      2 % |
| Vitamin C |                      0 % |
| Calcium |                      6 % |
| Iron |                      10 % |