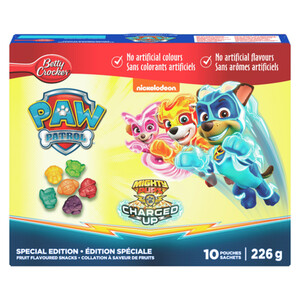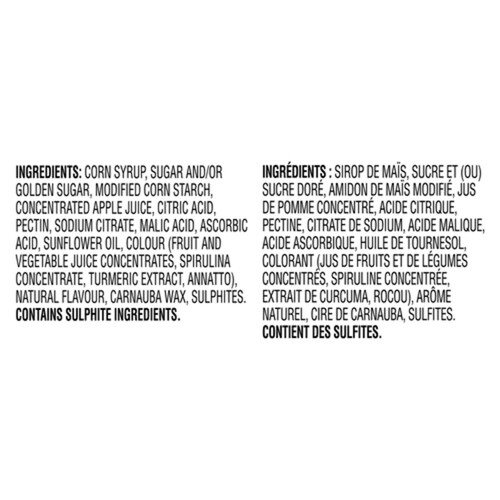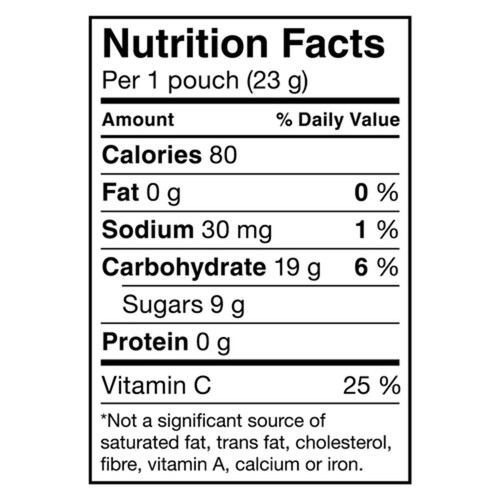 Betty Crocker Fruit Flavoured Snack Special Edition Fruit Shapes 226 g
Product Information
Kids will enjoy endless fun with their favourite cartoon characters as a fun snack! A fun treat! Perfect for a snack or a playful topping or decoration for cupcakes and cakes!
Ingredients
INGREDIENTS: CORN SYRUP, SUGAR AND/OR GOLDEN SUGAR, MODIFIED CORN STARCH, CONCENTRATED APPLE JUICE, CITRIC ACID, PECTIN, SODIUM CITRATE, MALIC ACID, ASCORBIC ACID, SUNFLOWER OIL, COLOUR (FRUIT AND VEGETABLE JUICE CONCENTRATES, SPIRULINA CONCENTRATE, TURMERIC EXTRACT, ANNATTO), NATURAL FLAVOUR, CARNAUBA WAX, SULPHITES. CONTAINS SULPHITE INGREDIENTS.
Preparation And Usage
Directions: add 25 g (2 full tablespoons) of gravy mix into 250 ml (1 cup) of cold water. Mix and bring to a boil stirring constantly with a wire whisk. Reduce heat and simmer 3 minutes, strirring occasionally. To obtain a creamier gravy use 125 ml (1/2 cup) of cold water and 125 ml (1/2 cup) of milk, soya milk, rice or almond. Makes 25 servings of 60 ml (about 1/4 cup).
Nutritional Information
per per 1 pouch (23 g)
| Amount                               | % Daily Value |
| --- | --- |
| Calories 80 | |
| Fat 0 g |                      0 % |
|  Saturated 0 g |                      0 % |
|  + Trans 0 g | |
|   Omega-6 0 g | |
|   Omega-3 0 g | |
|  Monounsaturated Fats 0 g | |
| Cholesterol 0 mg | |
| Sodium 30 mg |                      1 % |
| Potassium 0 mg |                      0 % |
| Carbohydrate 19 g |                      6 % |
|  Fibre 0 g |                      0 % |
|  Sugars 9 g | |
|  Sugar Alcohols 0 mg | |
| Protein 0 g | |
| Vitamin A |                      0 % |
| Vitamin C |                      25 % |
| Calcium |                      0 % |
| Iron |                      0 % |