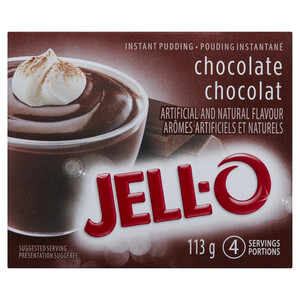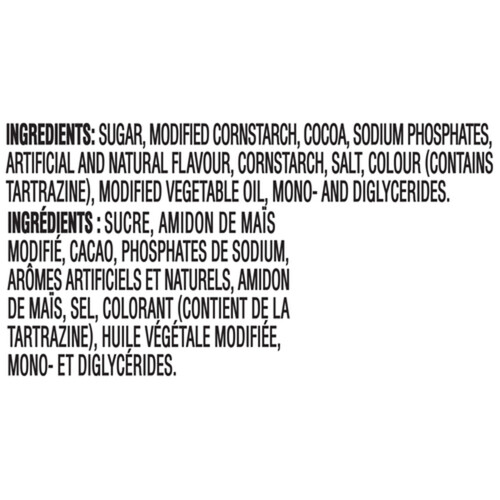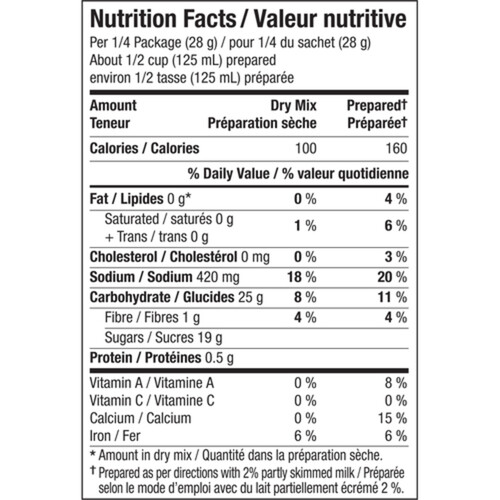 Jell-O Instant Pudding Mix Chocolate 113 g
Product Information
Jell-O Chocolate Instant Pudding Mix offers a delicious flavor, whether you eat it as a treat or use it as an ingredient in your favorite dessert recipes. The delicious chocolate flavor tastes great as a pie filling or as an ingredient in chocolate cake. The quick dessert is easy to make in just five minutes; simply stir milk into the pudding powder and allow to set. You will quickly have a delicious pudding that the entire family will enjoy. The 113g box of Jell-O chocolate pudding mix comes individually packaged in a sealed pouch for freshness.
Product Features
One 113 g box of Jell-O Chocolate Instant Pudding Mix
Preparation And Usage
DIRECTIONS: JUST FOLLOW OUR SIMPLE STEPS: POUR 2 cups (500 mL) cold milk into medium bowl. Add pudding mix. BEAT with wire whisk, or electric mixer on lowest speed, 2 min. Pour into four small bowls. LET stand 3 min. For firmer pudding, let stand about 5 min. MAKES 4 servings, 1/2 cup (125 mL) each.
Nutritional Information
per (28.25 g)
| Amount                               | % Daily Value |
| --- | --- |
| Calories 100 | |
| Fat 0 g |                      0 % |
|  Saturated 0 g |                      0 % |
|  + Trans 0 g | |
|   Omega-6 0 g | |
|   Omega-3 0 g | |
|  Monounsaturated Fats 0 g | |
| Cholesterol 0 mg | |
| Sodium 430 mg |                      18 % |
| Potassium 0 mg |                      0 % |
| Carbohydrate 25 g |                      8 % |
|  Fibre 1 g |                      4 % |
|  Sugars 18 g | |
|  Sugar Alcohols 0 mg | |
| Protein 0 g | |
| Vitamin A |                      0 % |
| Vitamin C |                      0 % |
| Calcium |                      0 % |
| Iron |                      4 % |