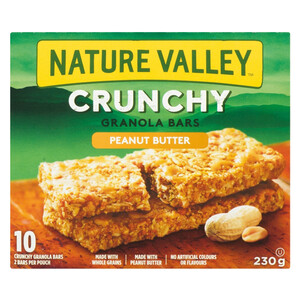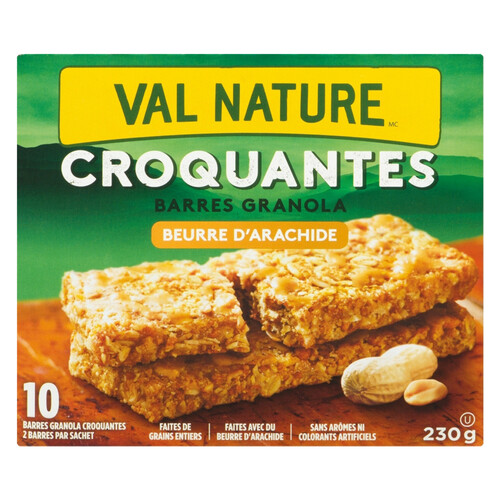 Nature Valley Granola Bars Crunchy Peanut Butter 10 x 23 g
Product Information
Nature Valley Peanut Butter Granola Bars combine whole grain rolled oats, crisp rice and creamy peanut butter to produce a sweet and wholesome snack. A tasty snack for a busy day or an active lifestyle! Smart snacking has never tasted so good.
Features
INGRÉDIENTS : FLOCONS D'AVOINE ENTIÈRE, SUCRE ET (OU) SUCRE DORÉ, HUILE DE CANOLA RICHE EN GRAS MONOINSATURÉS, HUILE DE CANOLA ET (OU) HUILE DE TOURNESOL RICHE EN GRAS MONOINSATURÉS, BEURRE D'ARACHIDE (ARACHIDES, SEL), SIROP DORÉ, SON D'AVOINE, SEL, FARINE DE RIZ, LÉCITHINE DE SOYA, MONOGLYCÉRIDES, BICARBONATE DE SODIUM, ARÔME NATUREL. CONTIENT DES ARACHIDES, DU SOYA ET DE L'AVOINE ; PEUT CONTENIR DES INGRÉDIENTS DU BLÉ, DE L'AMANDE ET DE LA PACANE.
Ingredients
Ingredients: Whole Grain Rolled Oats, Sugar and/or Golden Sugar, High Monounsaturated Canola Oil, Peanut Butter (Peanuts, Salt), Golden Syrup, Oat Bran, Salt, Rice Flour, Soy Lecithin, Monoglycerides, Baking Soda, Natural Flavour.
Nutritional Information
per per 2 bars (46 g)
| Amount                               | % Daily Value |
| --- | --- |
| Calories 220 | |
| Fat 11 g |                      16 % |
|  Saturated 1 g |                      7 % |
|  + Trans 0 g | |
|   Omega-6 0 g | |
|   Omega-3 0 g | |
|  Monounsaturated Fats 0 g | |
| Cholesterol 0 mg | |
| Sodium 150 mg |                      6 % |
| Potassium 0 mg |                      0 % |
| Carbohydrate 28 g |                      9 % |
|  Fibre 3 g |                      12 % |
|  Sugars 9 g | |
|  Sugar Alcohols 0 mg | |
| Protein 5 g | |
| Vitamin A |                      0 % |
| Vitamin C |                      0 % |
| Calcium |                      2 % |
| Iron |                      10 % |