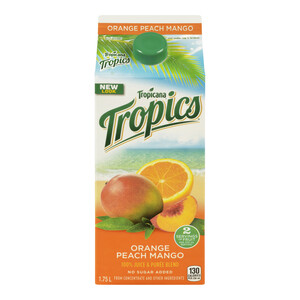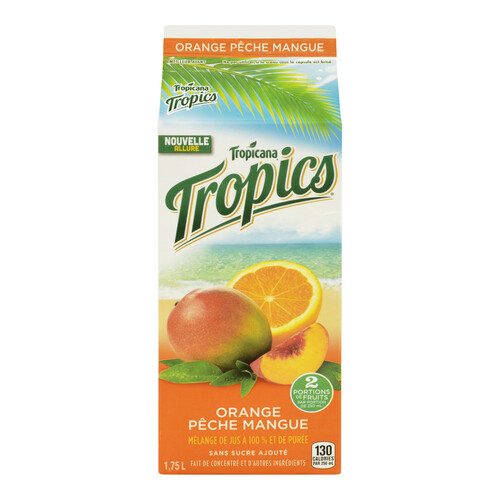 Tropicana Tropics Orange Peach Mango Juice 1.75 L
Product Information
Tropicana Tropics Orange Peach Mango 100% Juice & Purée Blend from concentrate and other ingredients is a quality, refreshing beverage. Made with a delicious blend of real fruit juice and purée concentrates and no added sugar. This 1.75 L carton is perfect for sharing with friends and family.
Cooking & Usage Tips
Oven cook - From Frozen Cook frozen. Bake in a preheated oven at 425°F (218°C) for 10 minutes, flip, then cook for 10 to 15 minutes. Cook to an internal temperature of 160°F (72°C). Times and temperatures may vary from one oven to onther. if prodcut has thawed, cook immediately. Raw product, do not microwave.
Nutritional Information
per 250 ML
| Amount                               | % Daily Value |
| --- | --- |
| Calories 130 | |
| Fat 0 g |                      0 % |
|  Saturated 0 g |                      0 % |
|  + Trans 0 g | |
|   Omega-6 0 g | |
|   Omega-3 0 g | |
|  Monounsaturated Fats 0 g | |
| Cholesterol 0 mg | |
| Sodium 10 mg |                      1 % |
| Potassium 310 mg |                      9 % |
| Carbohydrate 31 g |                      10 % |
|  Fibre 0 g |                      0 % |
|  Sugars 28 g | |
|  Sugar Alcohols 0 mg | |
| Protein 1 g | |
| Vitamin A |                      0 % |
| Vitamin C |                      100 % |
| Calcium |                      2 % |
| Iron |                      2 % |