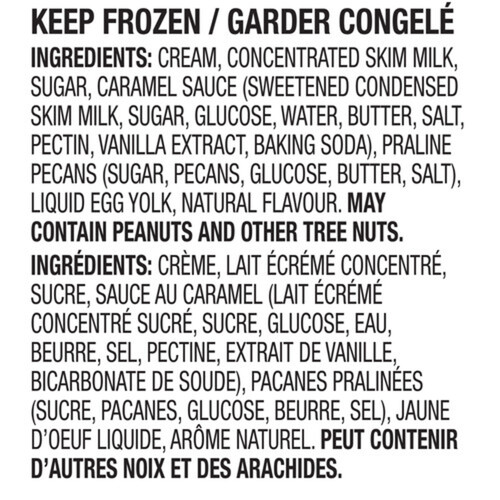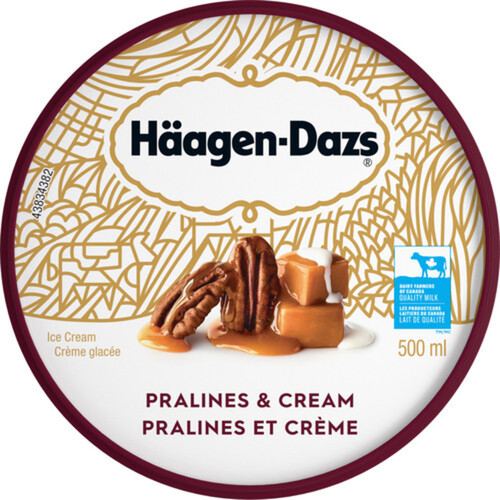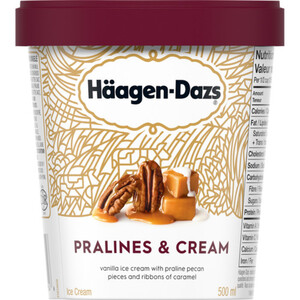 Häagen-Dazs Pralines & Cream Ice Cream 500 ml
Product Information
Indulge in the irresistible taste of Häagen-Dazs Pralines & Cream Ice Cream. Enjoy a balance of sweet and salty with ribbons of golden caramel and crisp pecan pralines blended into Häagen-Dazs signature vanilla ice cream. Made with 100% Canadian dairy, this perfected combination is irresistibly delicious.
Ingredients
Cream, Concentrated Skim Milk, Sugar, Caramel Sauce (Sweetened Condensed Skim Milk, Sugar, Glucose, Water, Butter, Salt, Pectin, Vanilla Extract, Baking Soda), Praline Pecans (Sugar, Pecans, Glucose, Butter, Salt), Liquid Egg Yolk, Natural Flavour. May contain peanuts and other tree nuts.
Storage
Keep refrigerated. Do not freeze.
Preparation And Usage
Shake well.
Nutritional Information
per per 1/2 cup (125 m
| Amount                               | % Daily Value |
| --- | --- |
| Calories 310 | |
| Fat 18 g |                      28 % |
|  Saturated 10 g |                      53 % |
|  + Trans 0 g | |
|   Omega-6 0 g | |
|   Omega-3 0 g | |
|  Monounsaturated Fats 0 g | |
| Cholesterol 70 mg | |
| Sodium 180 mg |                      8 % |
| Potassium 0 mg |                      0 % |
| Carbohydrate 32 g |                      11 % |
|  Fibre 0 g |                      0 % |
|  Sugars 29 g | |
|  Sugar Alcohols 0 mg | |
| Protein 4 g | |
| Vitamin A |                      20 % |
| Vitamin C |                      0 % |
| Calcium |                      15 % |
| Iron |                      2 % |