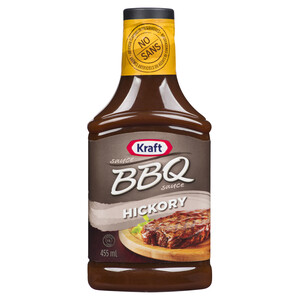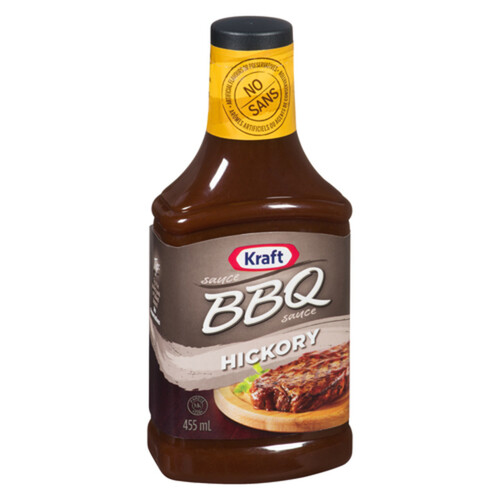 Product Information
Kraft BBQ Sauces combine the perfect amount of high quality ingredients to create delicious barbecue sauces your family will enjoy. Kraft BBQ Sauces are cooked by a slow simmer method, allowing spices to fully develop for flavourful, well-balanced BBQ Sauces.
Product Features
One 455 ml bottle of Kraft Hickory BBQ Sauce
Ingredients
100% Arabica Coffee.
Nutritional Information
per (33.93 g)
| Amount                               | % Daily Value |
| --- | --- |
| Calories 36 | |
| Fat 0 g |                      0 % |
|  Saturated 0 g |                      0 % |
|  + Trans 0 g | |
|   Omega-6 0 g | |
|   Omega-3 0 g | |
|  Monounsaturated Fats 0 g | |
| Cholesterol 0 mg | |
| Sodium 310 mg |                      13 % |
| Potassium 0 mg |                      0 % |
| Carbohydrate 9 g |                      3 % |
|  Fibre 0 g |                      0 % |
|  Sugars 7 g | |
|  Sugar Alcohols 0 mg | |
| Protein 0 g | |
| Vitamin A |                      0 % |
| Vitamin C |                      0 % |
| Calcium |                      0 % |
| Iron |                      2 % |