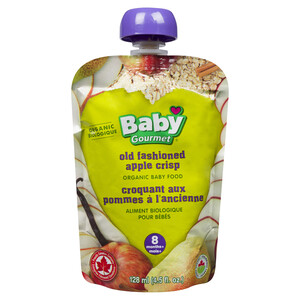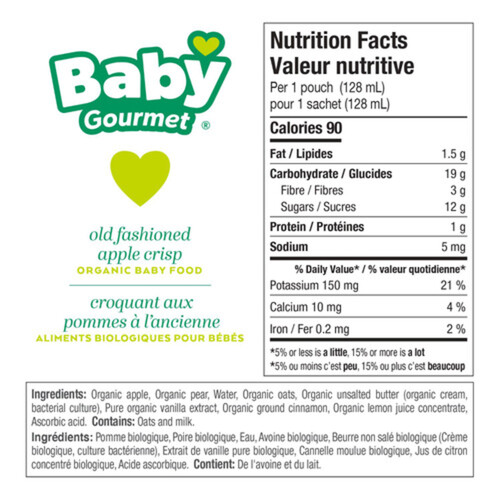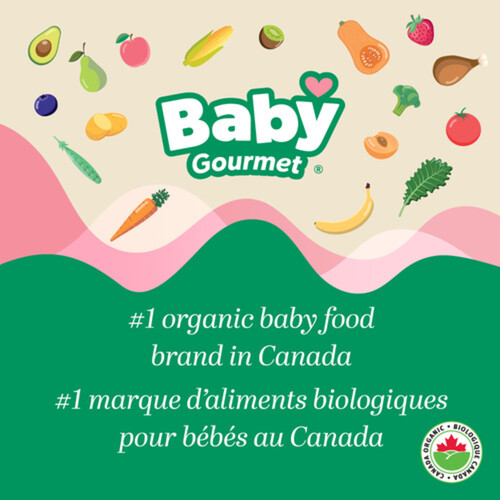 Baby Gourmet Organic Baby Food Old Fashioned Crisp Apple 128 ml
Product Information
8 Months + Baby Gourmet Plus flavours take Baby Gourmet to the next level with four food groups – "superfruits", vegetables, Greek yogurt and whole grains in every purée.
Ingredients
Ingredients: Organic Apple, Organic Pear, Water, Organic Oats, Organic Butter, Organic Vanilla, Organic Cinnamon, Organic Lemon Juice Concentrate, Ascorbic Acid.
Storage
Refrigerate after opening. Consume within 24 hours.
Preparation And Usage
SERVING INSTRUCTIONS: Serve warm or cold. Always check food temperature before serving.
Nutritional Information
per 1 pouch (128 m
| Amount                               | % Daily Value |
| --- | --- |
| Calories 90 | |
| Fat 2 g |                      2 % |
|  Saturated 0 g |                      0 % |
|  + Trans 0 g | |
|   Omega-6 0 g | |
|   Omega-3 0 g | |
|  Monounsaturated Fats 0 g | |
| Cholesterol 0 mg | |
| Sodium 5 mg |                      1 % |
| Potassium 150 mg |                      21 % |
| Carbohydrate 19 g |                      6 % |
|  Fibre 3 g |                      12 % |
|  Sugars 12 g | |
|  Sugar Alcohols 0 mg | |
| Protein 1 g | |
| Vitamin A |                      0 % |
| Vitamin C |                      0 % |
| Calcium |                      4 % |
| Iron |                      2 % |