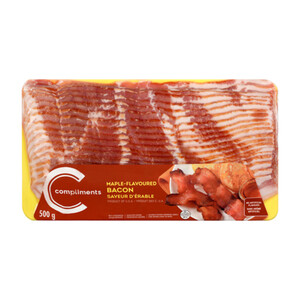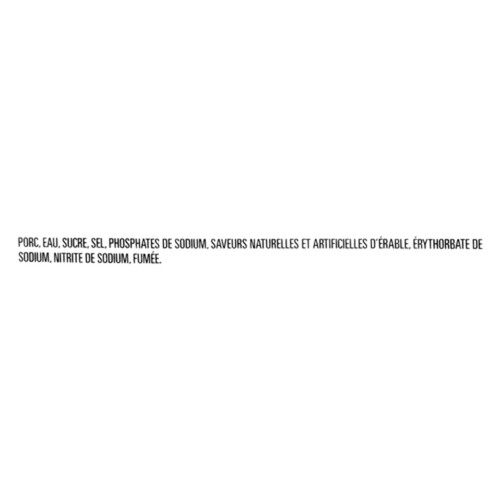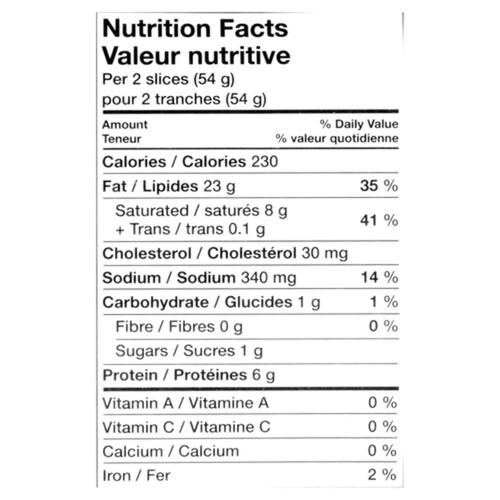 Compliments Maple Flavoured Bacon 500 g
Product Information
Bacon, maple… need we say more? Add a touch of Canadian maple yum to your basic bacon for a hint of sweet with breakfast, or crumbled on your favourite pasta, salad or veggie side.
Cooking & Usage Tips
Microwave: Separate slices of bacon and place side-by-side between paper towels on a microwave-safe dish. Microwave on medium-high for 1-2 minutes or until cooked. Let stand for 1 minute before serving. Pan Fry: Separate slices of bacon and place in a cold frying pan. Fry over medium heat for 6-8 minutes or to desired crispness. Drain on paper towel before serving.
Ingredients
Ingredients: Pork, Water, Sugar, Salt, Sodium phosphates, Natural and artificial maple flavours, Sodium erythorbate, Sodium nitrite, Smoke.
Nutritional Information
per 2 slices (54 g)
| Amount                               | % Daily Value |
| --- | --- |
| Calories 230 | |
| Fat 22 g |                      34 % |
|  Saturated 8 g |                      41 % |
|  + Trans 0 g | |
|   Omega-6 0 g | |
|   Omega-3 0 g | |
|  Monounsaturated Fats 0 g | |
| Cholesterol 15 mg | |
| Sodium 260 mg |                      11 % |
| Potassium 125 mg |                      4 % |
| Carbohydrate 0 g |                      0 % |
|  Fibre 0 g |                      0 % |
|  Sugars 0 g | |
|  Sugar Alcohols 0 mg | |
| Protein 8 g | |
| Vitamin A |                      0 % |
| Vitamin C |                      0 % |
| Calcium |                      0 % |
| Iron |                      0 % |