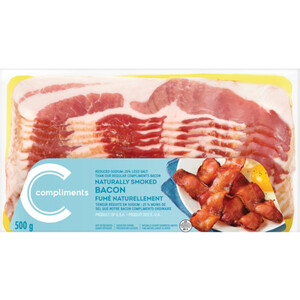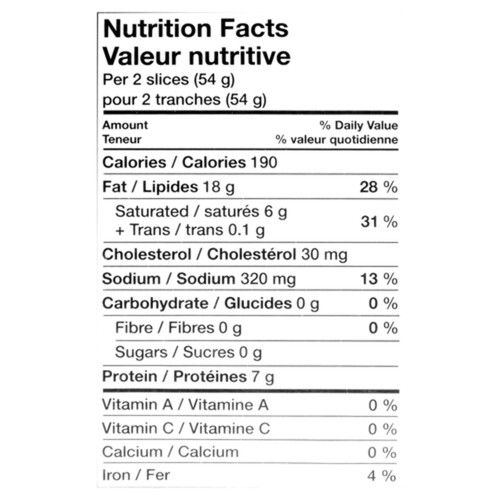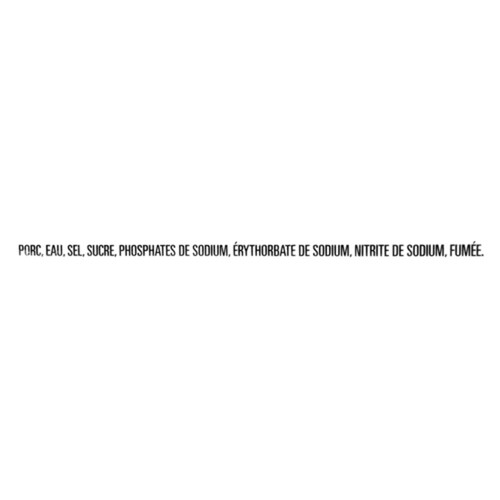 Compliments Regular Low Sodium Bacon 500 g
Product Information
This bacon is naturally smoked to give that unmistakable bacon flavour to your meal but has 34 % less sodium for your heart healthy life.
Cooking & Usage Tips
Microwave: Separate slices of bacon and place side-by-side between paper towel sheets on a microwave-safe dish. Cook on medium for 1 to 2 minutes or until cooked. Let stand for 1 minute before serving. Pan Fry: Separate slices of bacon and place in cold frying pan. Turning often, fry over medium heat for 6 to 8 minutes or to desired crispness. Drain on paper towels before serving.
Ingredients
Ingredients: pork, water, salt, sugar, sodium phosphate, sodium erythorbate, sodium nitrite, smoke.
Nutritional Information
per 2 slices (54 g)
| Amount                               | % Daily Value |
| --- | --- |
| Calories 240 | |
| Fat 23 g |                      35 % |
|  Saturated 8 g |                      41 % |
|  + Trans 0 g | |
|   Omega-6 0 g | |
|   Omega-3 0 g | |
|  Monounsaturated Fats 0 g | |
| Cholesterol 15 mg | |
| Sodium 320 mg |                      13 % |
| Potassium 100 mg |                      3 % |
| Carbohydrate 0 g |                      0 % |
|  Fibre 0 g |                      0 % |
|  Sugars 0 g | |
|  Sugar Alcohols 0 mg | |
| Protein 7 g | |
| Vitamin A |                      0 % |
| Vitamin C |                      0 % |
| Calcium |                      0 % |
| Iron |                      0 % |