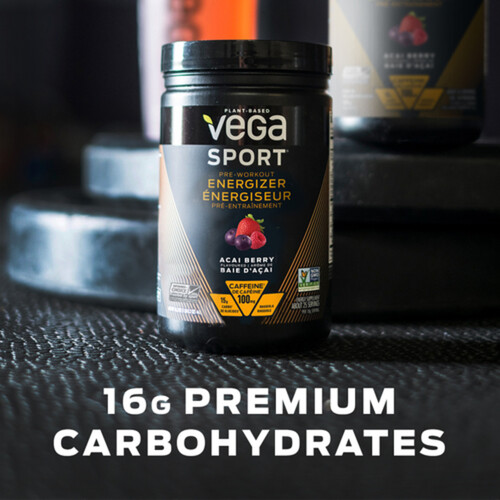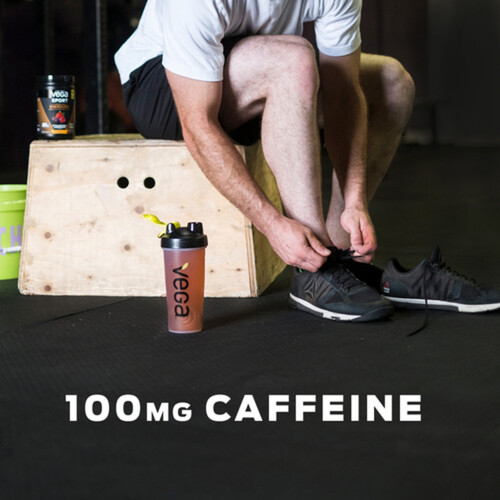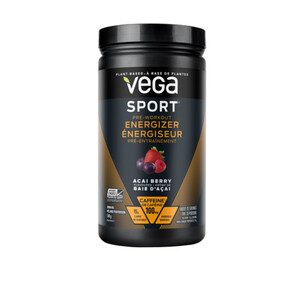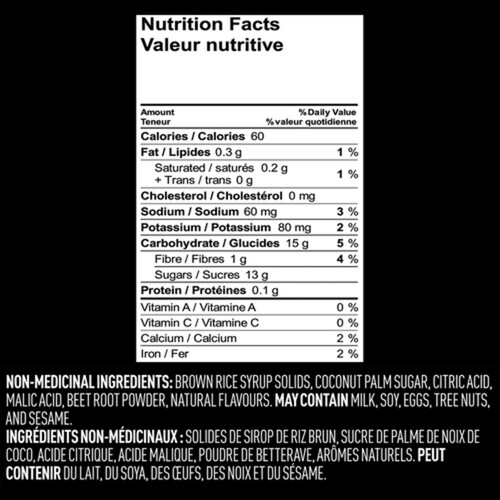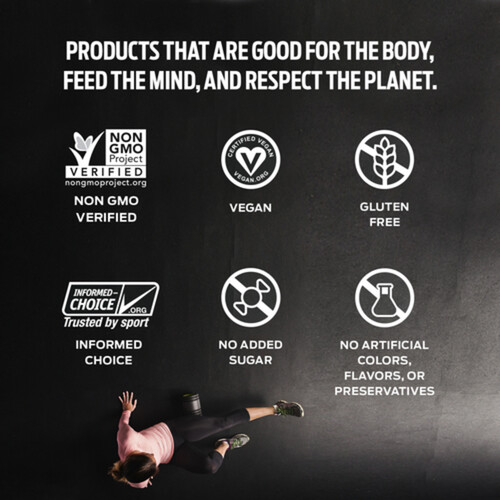 Vega Sport Pre Workout Energizer Acai Berry 30 Servings
Product Information
Get in the zone with Vega Sport Pre-Workout Energizer. With 14g premium carbohydrates, rhodiola, and caffeine, Pre-Workout Energizer helps relieve fatigue and promote endurance so you can stay focused on what matters: your workout. Available in refreshing Açai Berry or Lemon Lime flavors, Vega Sport Pre-Workout Energizer is Informed-Choice certified, gluten-free, and vegan certified, with no artificial flavors, colors or preservatives
Product Features
Vegan pre workour energy powder helps fuel your workout with clean, plant based ingredients you can recognize. HELPS YOU STAY ALERT with 100mg of caffeine primarily from green tea and yerba mate, so you'll be ready for your workout, cycling, hiking or running. 14 GRAMS OF PREMIUM CARBOHYDRATES from brown rice syrup and coconut palm sugar (no artificial sweeteners) provide fast digesting carbs for quick energy pre workout for women and men. HELP RELIEVE FATIGUE and promote endurance, and enhance cognitive performance. MADE FOR ATHLETES, Informed Choice Certified, Vegan certified, gluten free. EASY TO MIX pre workout drink, mix One scoop with 1 cup of ice-cold water and shake or stir to combine.
Ingredients
Medicinal Ingredients per 1 scoop/pack (18 g): Coconut oil powder (Cocos nucifera) seed 1000mg, Yerba maté (Ilex paraguariensis) leaf 167mg) - Caffeine 50mg, Devil's claw (Harpagophytum procumbens) root (6:1, QCE 900 mg) 150mg, Green tea (Camellia sinensis) leaf 100mg - Caffeine 50mg, Rhodiola (Rhodiola rosea) root (10:1, 3% rosavin) (QCE 1,000 mg) 100mg, Ginseng (Panax ginseng) root (7% ginsenosides) 100mg, Sodium (sodium citrate) 57.5mg, Turmeric (Curcuma longa) root (95% curcuminoids) 53mg, Potassium (potassium citrate) 50mg, Ginger (Zingiber officinale) root (5% gingerols) 10mg. Non-medicinal ingredients: Brown rice syrup solids, coconut palm sugar, natural flavours, citric acid, malic acid, red beet powder
Preparation And Usage
Mix one level scoop (18 g) of Vega Sport® Pre-Workout Energizer in 1 cup (250 ml) of ice cold water and enjoy before exercise. Take 1 scoop per day.