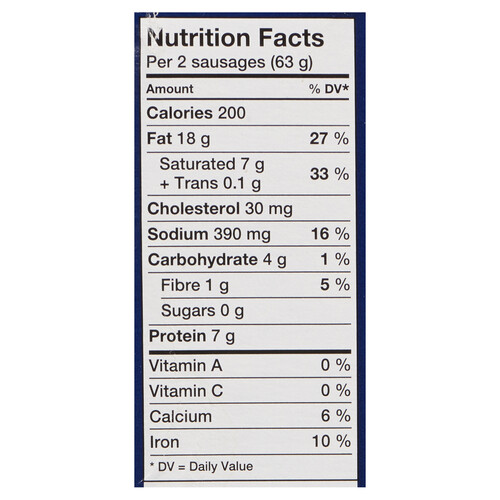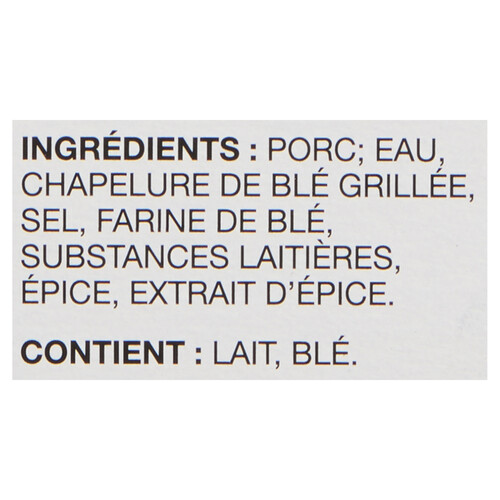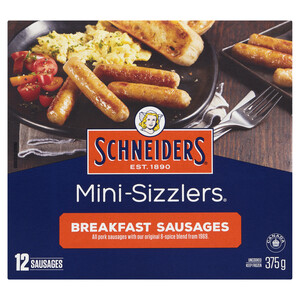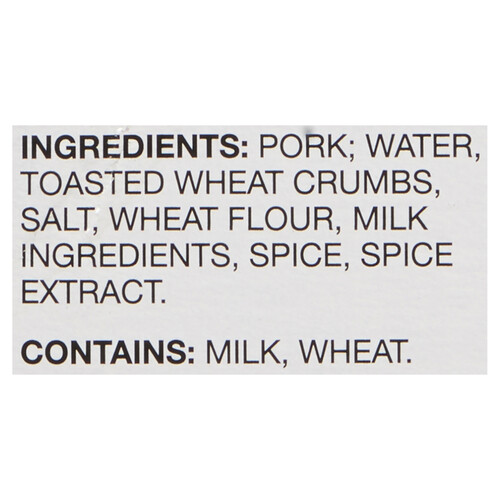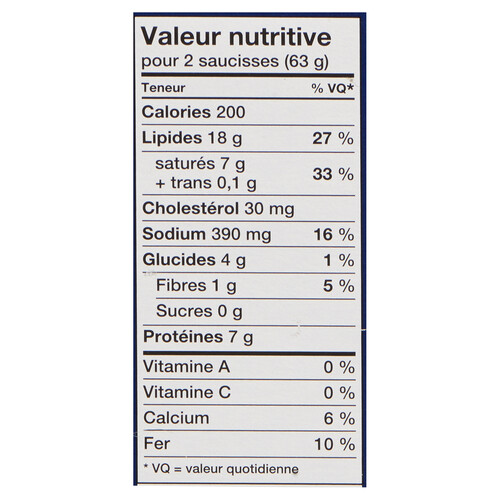 Schneiders Mini-Sizzlers Breakfast Sausages 375 g
Product Information
Schneiders Mini-Sizzlers Breakfast Sausages are the perfect complement to any hearty breakfast. Made in the traditional English style, these "bangers" feature a finely-ground all-pork filling stuffed into a light casing to keep the juices nestled inside. The 8-spice blend serves up a delicate richness, mild yet flavourful and just right for the morning. Preparation is easy: simply heat up the frozen breakfast sausages alongside your eggs in a frying pan until they are browned. Since 1890, Schneiders brand has established a rich heritage of original and authentic recipes, using premium ingredients and taking all the time needed to honour the origin and inspiration of each recipe. Quality never gets old.
Cooking & Usage Tips
Preparation instructions: keep frozen until ready to use. Do not thaw before cooking. If thawed, cook immediately. Not recommended for microwave cooking. Cook until an internal temperature of 165°F (74°C) is reached. Cooking instructions: frying pan: place sausages into a non-stick pan with 1/3 cup (80 ml) water. Cover and cook for 10 minutes. Remove lid and continue to cook for 10-15 minutes, until sausages are golden brown and have reached the required minimum internal temperature.
Ingredients
Ingredients: Pork; water, toasted wheat crumbs, salt, wheat flour, milk ingredients, spice, spice extract. Contains: milk, wheat.
Nutritional Information
per 2 sausages (63
| Amount                               | % Daily Value |
| --- | --- |
| Calories 200 | |
| Fat 18 g |                      28 % |
|  Saturated 7 g |                      36 % |
|  + Trans 0 g | |
|   Omega-6 0 g | |
|   Omega-3 0 g | |
|  Monounsaturated Fats 0 g | |
| Cholesterol 30 mg | |
| Sodium 390 mg |                      16 % |
| Potassium 0 mg |                      0 % |
| Carbohydrate 4 g |                      1 % |
|  Fibre 1 g |                      4 % |
|  Sugars 0 g | |
|  Sugar Alcohols 0 mg | |
| Protein 7 g | |
| Vitamin A |                      0 % |
| Vitamin C |                      0 % |
| Calcium |                      6 % |
| Iron |                      10 % |