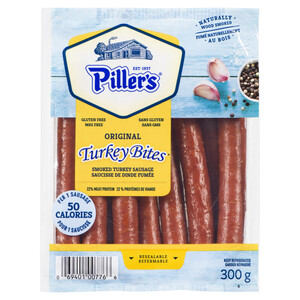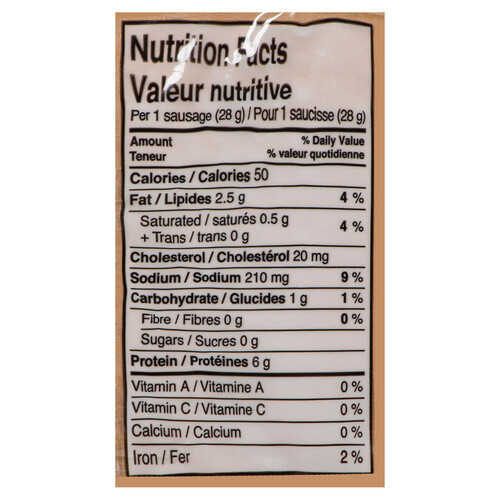 Piller's Turkey Bites 300g
Product Information
Our Turkey Bites are a family favourite. They're naturally wood smoked, gluten and MSG free and have only 50 calories per serving. Add in a lunch box for a delicious school or work snack.
Product Features
Gluten free, MSG free, Only 50 calories, High in protein
Ingredients
Turkey, water, potassium lactate, salt, sugar, hydrolyzed corn protein, potassium chloride, spices and spice extracts, onion powder, dextrose, lemon powder, sodium ascorbate, garlic powder, smoke flavour, sodium nitrite, smoke. May contain egg.
Nutritional Information
per 1 sausage (28
| Amount                               | % Daily Value |
| --- | --- |
| Calories 50 | |
| Fat 2 g |                      4 % |
|  Saturated 0 g |                      4 % |
|  + Trans 0 g | |
|   Omega-6 0 g | |
|   Omega-3 0 g | |
|  Monounsaturated Fats 0 g | |
| Cholesterol 20 mg | |
| Sodium 210 mg |                      9 % |
| Potassium 0 mg |                      0 % |
| Carbohydrate 1 g |                      1 % |
|  Fibre 0 g |                      0 % |
|  Sugars 0 g | |
|  Sugar Alcohols 0 mg | |
| Protein 6 g | |
| Vitamin A |                      0 % |
| Vitamin C |                      0 % |
| Calcium |                      0 % |
| Iron |                      2 % |