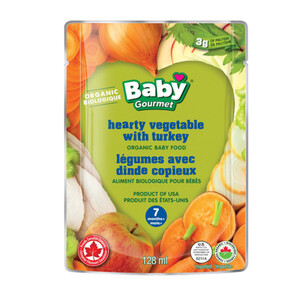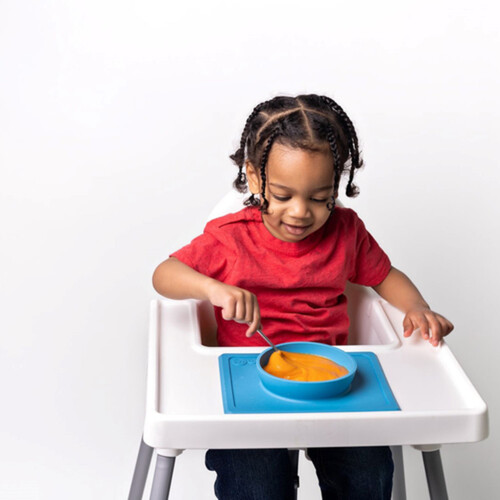 Baby Gourmet Organic Baby Food Hearty Vegetable With Turkey 128 ml
Product Information
7 Months + Baby Gourmet Tasty Textures meals provide comforting tastes with just the right consistency. Packed with turkey, herbs and all the fixings of a holiday meal, Baby Gourmet took a classic family recipe and turned it into a meal your baby can enjoy.
Ingredients
Ingredients: Organic Sweet Potato, Organic Apple, Organic Carrot, Organic Celery, Water, Organic Turkey, Organic Onion, Organic Basil, Organic Parsley, Organic Rosemary.
Preparation And Usage
Serving instructions: Serve warm or cold. To warm: stand pouch in hot water, or remove contents and heat in pan or microwave for 20 seconds. Always check temperature before serving. DO NOT MICROWAVE POUCH. Keep out of reach of children. If pouch is damaged or inflated with air DO NOT consume. Refrigerate after opening and consume within 24 hours.
Nutritional Information
per per 1 pouch (128 m
| Amount                               | % Daily Value |
| --- | --- |
| Calories 70 | |
| Fat 1 g |                      2 % |
|  Saturated 0 g |                      0 % |
|  + Trans 0 g | |
|   Omega-6 0 g | |
|   Omega-3 0 g | |
|  Monounsaturated Fats 0 g | |
| Cholesterol 0 mg | |
| Sodium 50 mg |                      2 % |
| Potassium 200 mg |                      28 % |
| Carbohydrate 14 g |                      5 % |
|  Fibre 2 g |                      8 % |
|  Sugars 6 g | |
|  Sugar Alcohols 0 mg | |
| Protein 3 g | |
| Vitamin A |                      0 % |
| Vitamin C |                      0 % |
| Calcium |                      12 % |
| Iron |                      5 % |