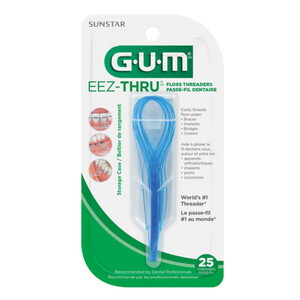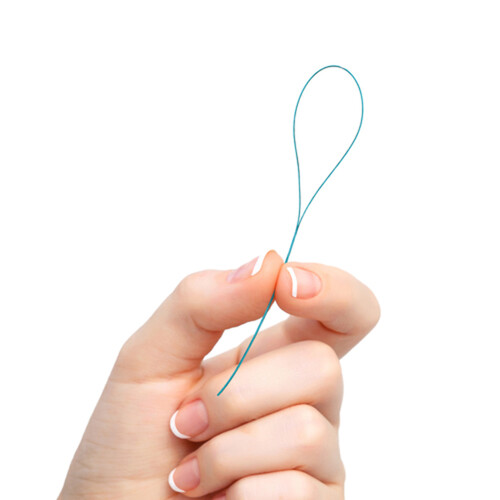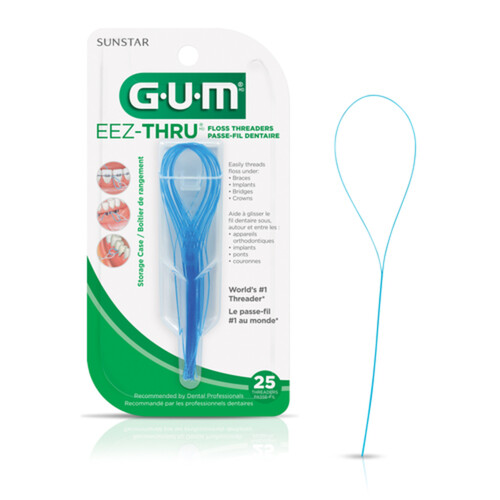 GUM Eez-Thru Floss Threaders 25 EA
Product Information
Versatile nylon loop design fits almost all kinds of dental floss to help you thread floss under and between oral appliances to remove dental plaque and food particles.
Product Features
Nylon Loop Design: The versatile nylon loop design of the GUM Eez-Thru floss threader fits all types of floss and helps thread the floss through braces, implants, bridges, and crowns. Fight Plaque In Braces, Bridges And Implants: These floss threaders are designed to thread dental floss under braces, fixed bridges and dental implants. Dental appliances and fixtures are often considered plaque traps requiring additional cleaning. Hygiene Made Easier: Threading Dental String Floss between braces, fixed bridges and dental implants is almost impossible without a floss threader. Dental plaque buildup may compromise the health and longevity of appliances and surrounding teeth. Portable And Convenient: GUM Eez-Thru Floss Threaders are easy, convenient, and quick to use. They come in a compact, hygienic container of 25 threaders. Easy to fit into your pocket or purse while traveling and everywhere you may go.
Preparation And Usage
Instructions: 1) Use about 18" (45 cm) of dental floss. 2) Pull 4-5" (10 to 15 cm) of floss through loop of Threader. 3) Pass Floss Threader through space between teeth or under appliance. Consult your dental professional, your best authority on proper use.