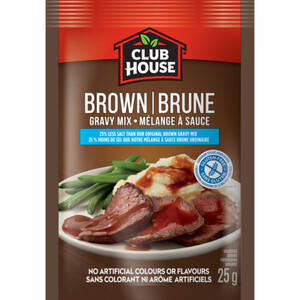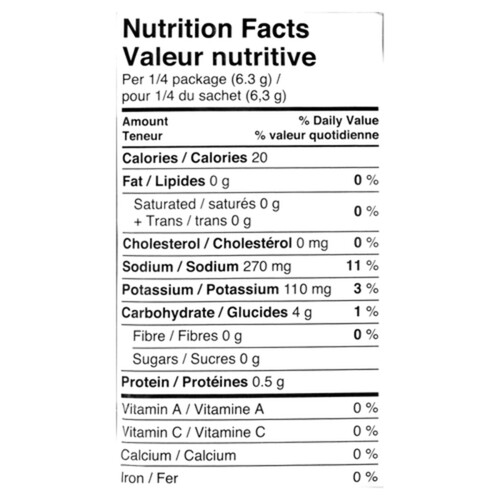 Club House Gluten-Free 25% Less Salt Brown Gravy 25 g
Product Information
Same great flavour of Club House Brown Gravy just without the gluten.
Cooking & Usage Tips
Hob - From Ambient All you need: Makes 1 cup (250 mL) gravy 1 cup (250 mL) water All you do: 1. Combine water and gravy mix in saucepan. 2. Cook over medium heat, stirring constantly until gravy comes to a boil; simmer 3 minutes. 3. Serve over beef, mashed potatoes or meatloaf. Microwave - From Ambient Microwave tip: 1. Combine water and gravy mix in qt (1 L) microwave safe bowl. 2. Cook, uncovered on high power for 3-4 minutes until bubbly and thickened, stirring after each minute. Other - General Gourmet tip: Take meat drippings and add water to equal 1 cup (250 ml). Add gravy mix. Cook as above.
Nutritional Information
per 1/4 package (6
| Amount                               | % Daily Value |
| --- | --- |
| Calories 20 | |
| Fat 0 g |                      0 % |
|  Saturated 0 g |                      0 % |
|  + Trans 0 g | |
|   Omega-6 0 g | |
|   Omega-3 0 g | |
|  Monounsaturated Fats 0 g | |
| Cholesterol 0 mg | |
| Sodium 270 mg |                      11 % |
| Potassium 110 mg |                      3 % |
| Carbohydrate 4 g |                      1 % |
|  Fibre 0 g |                      0 % |
|  Sugars 0 g | |
|  Sugar Alcohols 0 mg | |
| Protein 0 g | |
| Vitamin A |                      0 % |
| Vitamin C |                      0 % |
| Calcium |                      0 % |
| Iron |                      0 % |