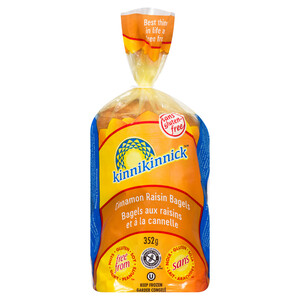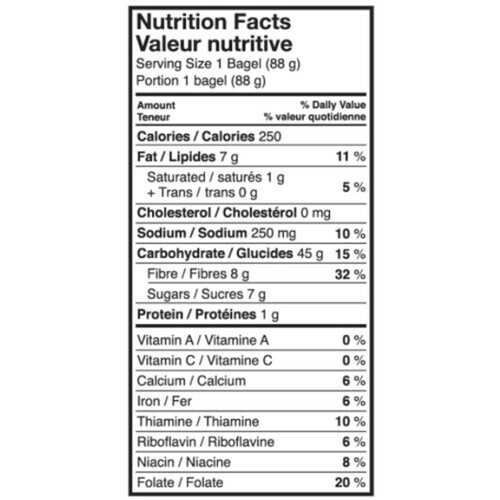 Kinnikinnick Gluten-Free Frozen Soft Bagels Cinnamon Raisin 352 g
Product Information
Chewy outside, soft in the middle, plump full of raisins, spiced with cinnamon. Vitamin & Mineral enriched. Fibre added. VEGAN. Keep frozen.
Ingredients
Ingredients Water, Raisins, White Rice Flour, Potato Starch*, Tapioca Starch, Canola Oil*, Cellulose, Cornstarch, Fructose*, Psyllium fiber, Non-Hydrogenated Palm Oil Shortening (palm oil, modified palm oil), Yeast, Cellulose, Ground Cinnamon, Salt, Cultured Corn Syrup Solids*, Citric Acid, Maltodextrin, Vitamin and Mineral Blend (Niacin, Iron, Thiamine, Riboflavin, Folic Acid), Enzymes, Sodium Bicarbonate *Not a product of genetic engineering †RSPO Certified May contain eggs
Preparation And Usage
Instructions: keep frozen. For best results warm or toast before serving.
Nutritional Information
per serving size 1 bagel
| Amount                               | % Daily Value |
| --- | --- |
| Calories 250 | |
| Fat 7 g |                      11 % |
|  Saturated 1 g |                      5 % |
|  + Trans 0 g | |
|   Omega-6 0 g | |
|   Omega-3 0 g | |
|  Monounsaturated Fats 0 g | |
| Cholesterol 0 mg | |
| Sodium 250 mg |                      10 % |
| Potassium 0 mg |                      0 % |
| Carbohydrate 45 g |                      15 % |
|  Fibre 8 g |                      32 % |
|  Sugars 7 g | |
|  Sugar Alcohols 0 mg | |
| Protein 1 g | |
| Vitamin A |                      0 % |
| Vitamin C |                      0 % |
| Calcium |                      6 % |
| Iron |                      6 % |