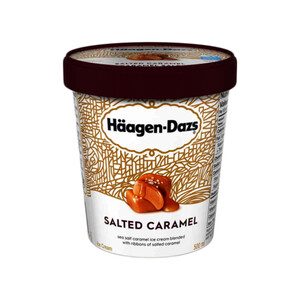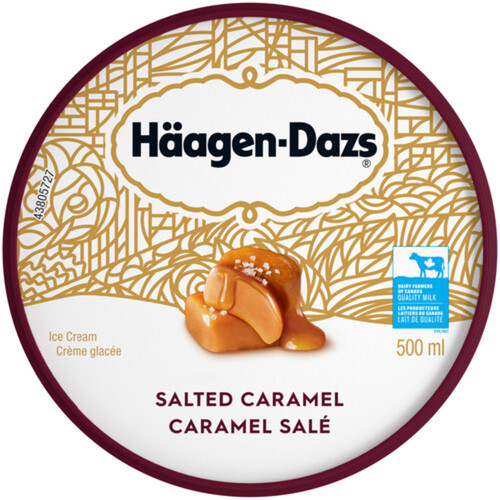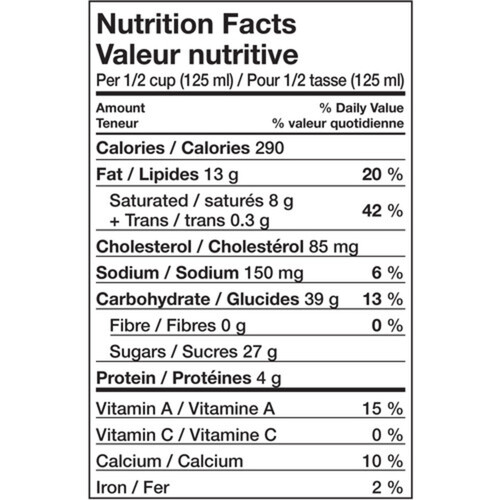 Häagen-Dazs Ice Cream Salted Caramel 500 ml
Product Information
Indulge in the irresistible taste of Häagen-Dazs Salted Caramel Ice Cream. This ice cream offers a flavourful combination of creamy caramel ice cream, swirled with ribbons of salted caramel. Made with 100% Canadian dairy, this ice cream brings sweet and salty together in the most decadent way.
Ingredients
Cream, Concentrated Skim Milk, Glucose Solids, Sugar, Liquid Egg Yolk, Sweetened Condensed Milk, Water, Brown Sugar, Butter, Pectin, Salt, Soy Lecithin, Baking Soda, Sea Salt, Natural Flavour. May contain peanuts and tree nuts.
Storage
Keep refrigerated. Do not freeze.
Preparation And Usage
Shake well.
Nutritional Information
per per 1/2 cup (125 m
| Amount                               | % Daily Value |
| --- | --- |
| Calories 290 | |
| Fat 13 g |                      20 % |
|  Saturated 8 g |                      0 % |
|  + Trans 0 g | |
|   Omega-6 0 g | |
|   Omega-3 0 g | |
|  Monounsaturated Fats 0 g | |
| Cholesterol 100 mg | |
| Sodium 150 mg |                      6 % |
| Potassium 0 mg |                      0 % |
| Carbohydrate 40 g |                      13 % |
|  Fibre 0 g |                      0 % |
|  Sugars 27 g | |
|  Sugar Alcohols 0 mg | |
| Protein 4 g | |
| Vitamin A |                      4 % |
| Vitamin C |                      0 % |
| Calcium |                      10 % |
| Iron |                      2 % |