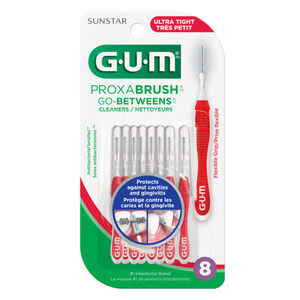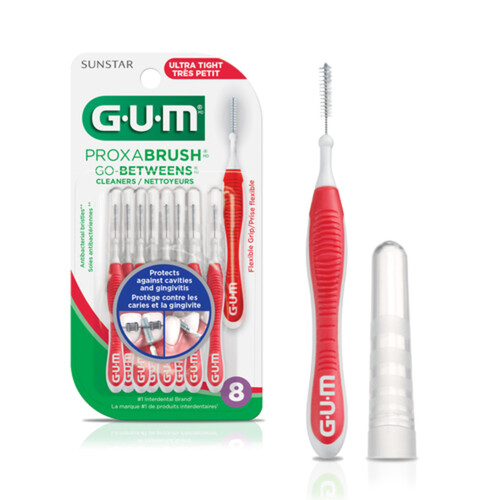 GUM Proxabrush Go-Betweens Ultra Tight 8 EA
8 per pack
($0.75 per item)
Product Information
The dentist-recommended Ultra-Tight interdental cleaner has an easy-grip handle, triangular antibacterial bristles, and bendable neck. Great for cleaning around teeth, bridges, crowns and implants.
Product Features
Tighter Spaces: GUM Proxabrush Go-Betweens Ultra Tight is more compact than the Tight interdental brush and is designed for tighter, more narrow spaces than Tight. Available in: Tight, Moderate, and Wide. Removes Up To 25% More Plaque: Interdental brushes are formatted with triangular bristles, 25% more effective at removing dental plaque from between teeth than conventional round bristles. #1 Dental Professional Recommended: The nylon-coated wires are designed for comfortable cleaning around dental appliances, fixtures, crowns, implants, orthodontics, and other hard-to-reach places without scratching or causing galvanic shock. Reusable: Coated with a patented antibacterial agent for continuous protection throughout the 10-day recommended usage period. Protective travel caps included for on-the-go usage. Flexible And Ergonomic Design: Nonslip rubber handle for comfortable and precise grip with a bendable neck that allows for maneuverability in hard-to-reach areas.
Preparation And Usage
1. Use gentle in and out motions to remove plaque and food particles from between teeth. 2. Rinse brush after use. Replace every 2 weeks.