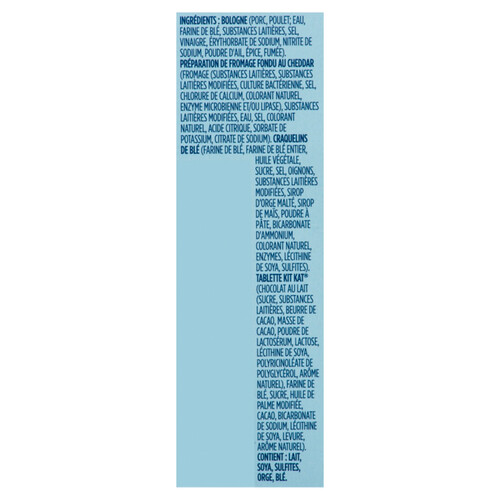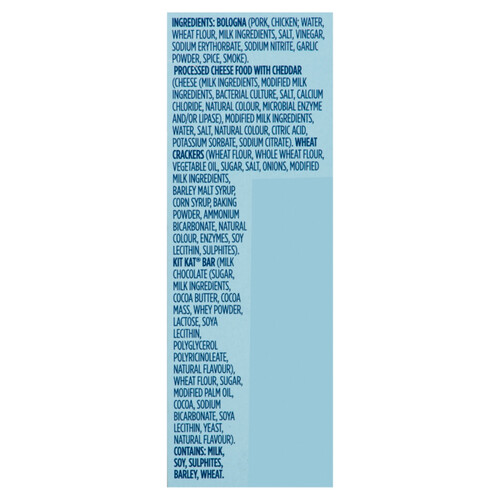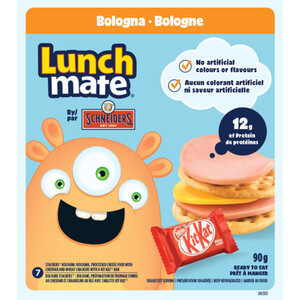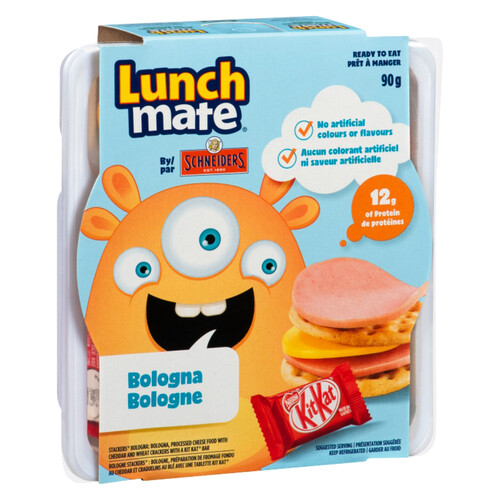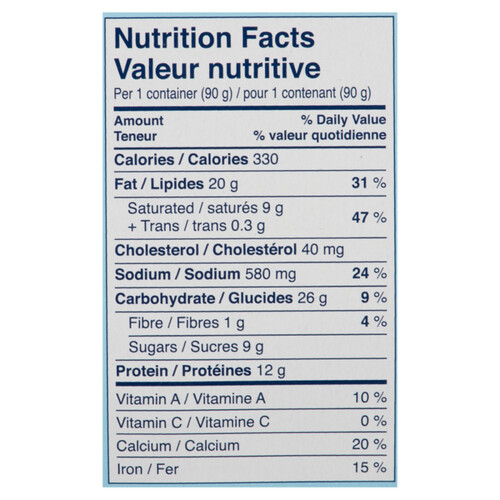 Schneiders Lunch Mate Bologna Lunch Kit 90 g
Product Information
Great for school or at home, Schneiders Lunch Mate Bologna Lunch Kit let kids build and stack their own ready-to-eat lunch. This lunch meal kit features tasty sliced bologna, crackers, and cheese, with a bite-size Kit Kat bar for dessert. Each bologna and cheese pack delivers 12 grams of protein and is made with no artificial colours or flavours. Delicious and convenient—the lunch packs are great for school, sports practice, picnics, or as on-the-go snacks. This prepared meal includes everything you need to satisfy your lunchtime cravings. Since 1890, Schneiders brand has established a rich heritage of original and authentic recipes, using premium ingredients and taking all the time needed to honour the origin and inspiration of each recipe. Quality never gets old.
Cooking & Usage Tips
Rte Product - No Prep Instruction Required.
Nutritional Information
per 1 container (9
| Amount                               | % Daily Value |
| --- | --- |
| Calories 330 | |
| Fat 20 g |                      31 % |
|  Saturated 9 g |                      47 % |
|  + Trans 0 g | |
|   Omega-6 0 g | |
|   Omega-3 0 g | |
|  Monounsaturated Fats 0 g | |
| Cholesterol 40 mg | |
| Sodium 580 mg |                      24 % |
| Potassium 0 mg |                      0 % |
| Carbohydrate 26 g |                      9 % |
|  Fibre 1 g |                      4 % |
|  Sugars 9 g | |
|  Sugar Alcohols 0 mg | |
| Protein 12 g | |
| Vitamin A |                      10 % |
| Vitamin C |                      0 % |
| Calcium |                      20 % |
| Iron |                      15 % |