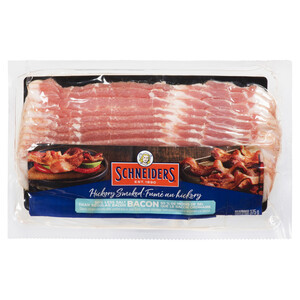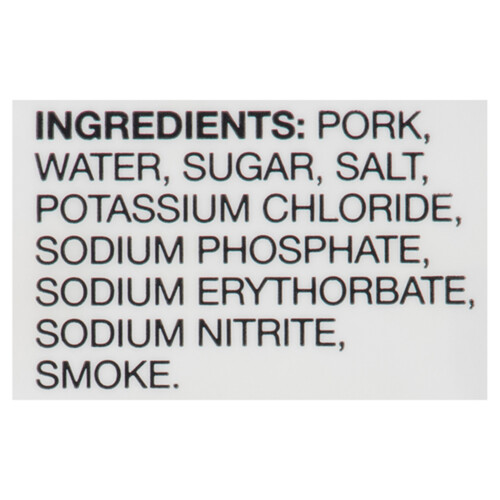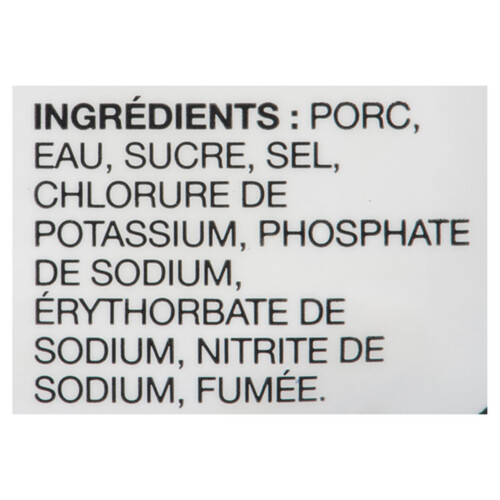 Schneiders Hickory Smoked 50% Less Salt Bacon 375 g
Product Information
Enjoy delicious hickory smoked bacon with less salt with Schneiders Hickory Smoked 50% Less Salt Bacon. These savoury bacon slices are crafted from our premium cuts of pork and naturally slow smoked with an open flame in North American hickory for rich, smoky flavour. With 50 percent less salt than regular bacon, this low sodium bacon is a tasty addition to breakfast dishes, sandwiches, and salads. Since 1890, Schneiders Foods has established a rich heritage of original and authentic recipes, using premium ingredients and taking all the time needed to honour the origin and inspiration of each recipe. Quality never gets old.
Cooking & Usage Tips
Cooking instructions: Pan fry: place bacon slices in a cold pan. Cook over medium heat, turning often, until bacon is golden brown and desired crispness is achieved. Place slices on a paper towel before serving. Oven: place bacon on a baking pan lined with parchment paper in a preheated 375°f (190°c) oven. Cook for 15-20 minutes until desired crispness is achieved, turning once. Cook until a minimum internal temperature of 160°F (71°C) is reached.
Nutritional Information
per 2 slices (50 g)
| Amount                               | % Daily Value |
| --- | --- |
| Calories 200 | |
| Fat 20 g |                      31 % |
|  Saturated 7 g |                      36 % |
|  + Trans 0 g | |
|   Omega-6 0 g | |
|   Omega-3 0 g | |
|  Monounsaturated Fats 0 g | |
| Cholesterol 30 mg | |
| Sodium 130 mg |                      5 % |
| Potassium 170 mg |                      5 % |
| Carbohydrate 1 g |                      1 % |
|  Fibre 0 g |                      0 % |
|  Sugars 0 g | |
|  Sugar Alcohols 0 mg | |
| Protein 6 g | |
| Vitamin A |                      0 % |
| Vitamin C |                      0 % |
| Calcium |                      0 % |
| Iron |                      2 % |