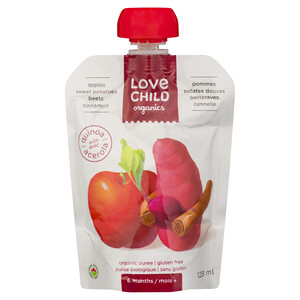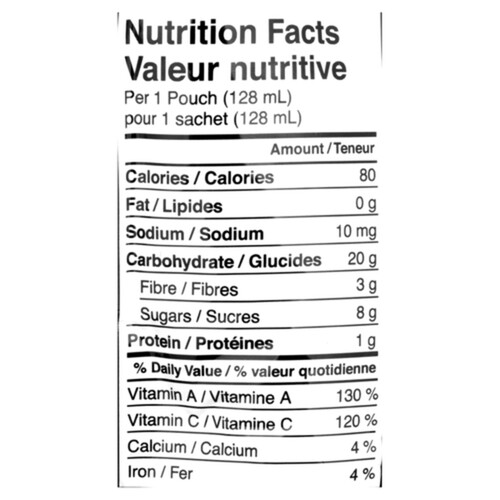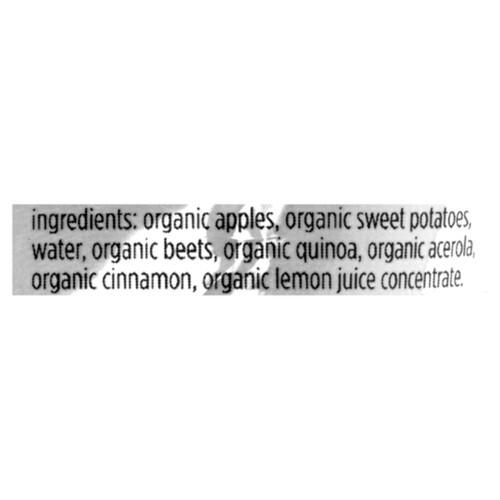 Love Child Organics Baby Food Apple Sweet Potato Beet & Cinnamon 128 ml
Product Information
6 Months + The autumnal flavours of this absolutely delicious combination will have babies bouncing for more and parents dreaming of Thanksgiving dinner, with all the trimmings! The tanginess of the apples is perfectly balanced by the sweet earthiness of the sweet potatoes and beets. The delicate touch of cinnamon rounds out the tasty flavour of this hearty and wholesome combination.
Ingredients
Ingredients: organic apples, organic sweet potatoes, water, organic beets, organic quinoa, organic acerola, organic cinnamon, organic lemon juice concentrate.
Preparation And Usage
USING ME: Serve at room temperature or warm pouch in hot water. DO NOT MICROWAVE POUCH. Shake and squeeze into a bowl or spoon, and check temperature before serving. Once opened, refrigerate and enjoy within 24 hours.