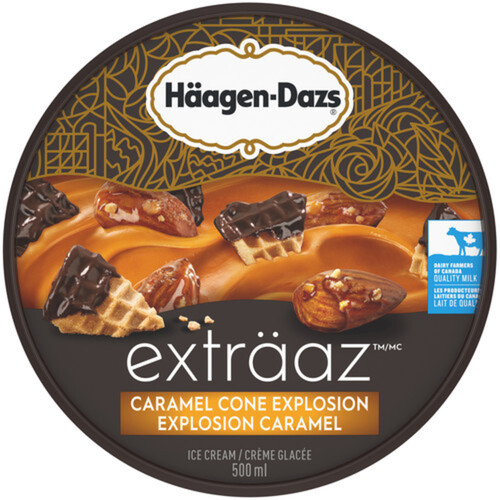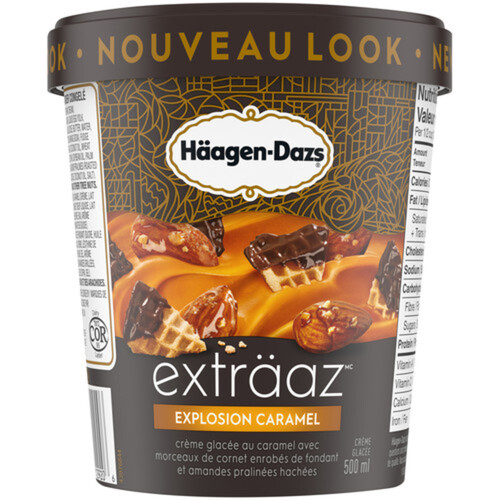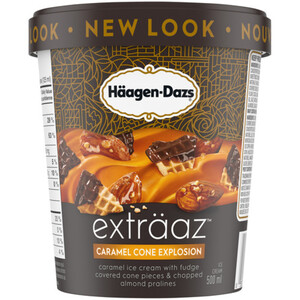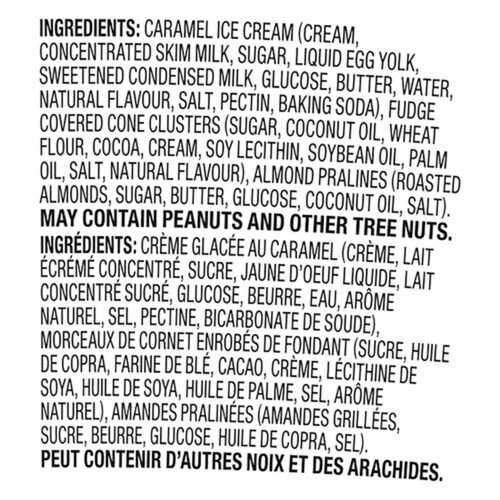 Häagen-Dazs Ice Cream Caramel Cone Explosion 500 ml
Product Information
Indulge in the irresistible taste of Häagen-Dazs Caramel Cone Explosion Ice Cream (500 ml). Since 1960, passion has taken Häagen-Dazs on a journey to transform only the finest ingredients into a simply extraordinary ice cream experience. This decadent dessert blends creamy caramel ice cream, rich caramel swirls, and crunchy chocolate-covered ice cream cone pieces.
Ingredients
Caramel Ice Cream (Cream, Concentrated Skim Milk, Sugar, Liquid Egg Yolk, Sweetened Condensed Milk, Glucose, Butter, Sea Salt, Pectin, Natural Flavour, Baking Soda), Fudge Covered Cone Pieces (Sugar, Coconut Oil, Wheat Flour, Cocoa, Cream, Soy Lecithin, Soy Oil, Palm Oil, Salt, Natural Flavour), Caramel Covered Almonds (Roasted Almonds, Sugar, Butter, Corn Syrup, Coconut Oil, Salt). May contain peanuts and other tree nuts.
Storage
Do not refrigerate
Preparation And Usage
Add 2 tbsp (30 ml) syrup + into 1½ cups (375 ml) milk Remember small kids require smaller portions.
Nutritional Information
per per 1/2 cup (125 m
| Amount                               | % Daily Value |
| --- | --- |
| Calories 320 | |
| Fat 19 g |                      29 % |
|  Saturated 12 g |                      63 % |
|  + Trans 0 g | |
|   Omega-6 0 g | |
|   Omega-3 0 g | |
|  Monounsaturated Fats 0 g | |
| Cholesterol 85 mg | |
| Sodium 115 mg |                      5 % |
| Potassium 0 mg |                      0 % |
| Carbohydrate 31 g |                      10 % |
|  Fibre 0 g |                      0 % |
|  Sugars 27 g | |
|  Sugar Alcohols 0 mg | |
| Protein 5 g | |
| Vitamin A |                      20 % |
| Vitamin C |                      0 % |
| Calcium |                      10 % |
| Iron |                      4 % |