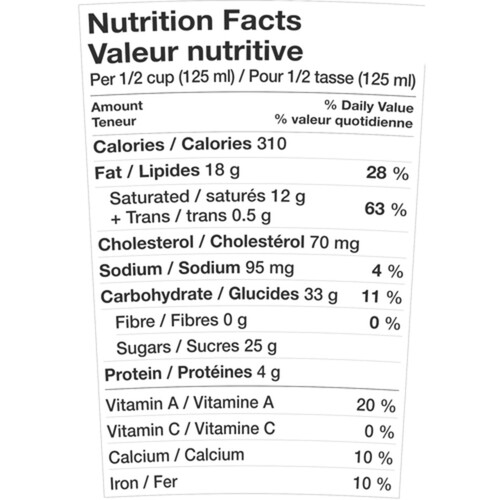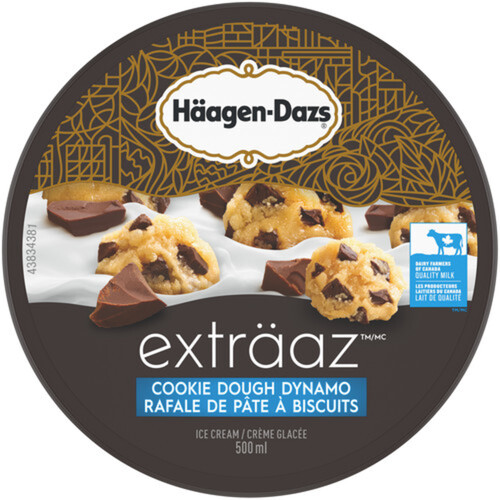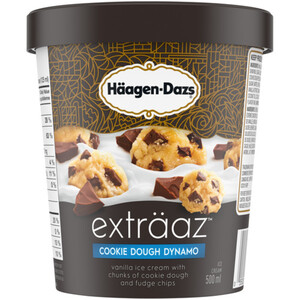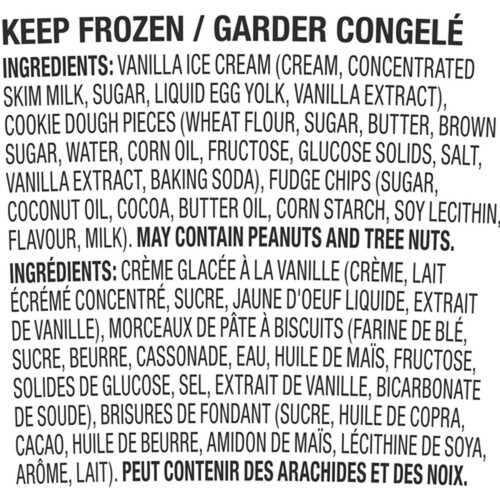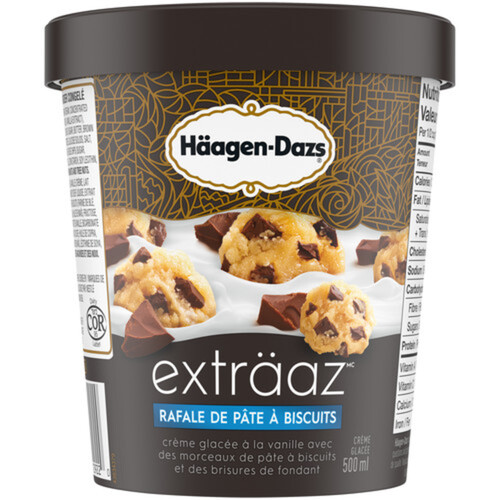 Häagen-Dazs Exträaz Ice Cream Cookie Dough Dynamo 500 ml
Product Information
Take indulgence to the next level with Häagen-Dazs Exträaz Cookie Dough Dynamo Ice Cream. Enjoy Häagen-Dazs ice cream infused with textured ingredients, bringing you a unique experience that will satisfy your richest cravings. Chunks of chewy cookie dough and delicious fudge chips are blended into finest vanilla ice cream, made with 100% Canadian dairy.
Ingredients
Vanilla Ice Cream (Cream, Concentrated Skim Milk, Sugar, Liquid Egg Yolk, Vanilla Extract), Cookie Dough Pieces (Wheat Flour, Sugar, Butter, Brown Sugar, Water, Corn Oil, Fructose, Glucose Solids, Salt, Vanilla Extract, Baking Soda), Fudge Chips (Sugar, Coconut Oil, Cocoa, Butter Oil, Corn Starch, Soy Lecithin, Flavour, Milk). May contain peanuts and tree nuts.
Storage
Do not refrigerate
Preparation And Usage
Add 2 tbsp (30 ml) syrup + into 1½ cups (375 ml) milk Remember small kids require smaller portions.
Nutritional Information
per per 1/2 cup (125 m
| Amount                               | % Daily Value |
| --- | --- |
| Calories 310 | |
| Fat 18 g |                      28 % |
|  Saturated 12 g |                      63 % |
|  + Trans 0 g | |
|   Omega-6 0 g | |
|   Omega-3 0 g | |
|  Monounsaturated Fats 0 g | |
| Cholesterol 70 mg | |
| Sodium 95 mg |                      4 % |
| Potassium 0 mg |                      0 % |
| Carbohydrate 33 g |                      11 % |
|  Fibre 0 g |                      0 % |
|  Sugars 25 g | |
|  Sugar Alcohols 0 mg | |
| Protein 4 g | |
| Vitamin A |                      20 % |
| Vitamin C |                      0 % |
| Calcium |                      10 % |
| Iron |                      10 % |