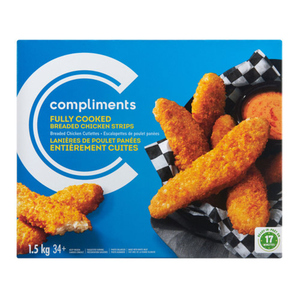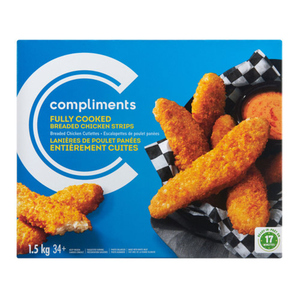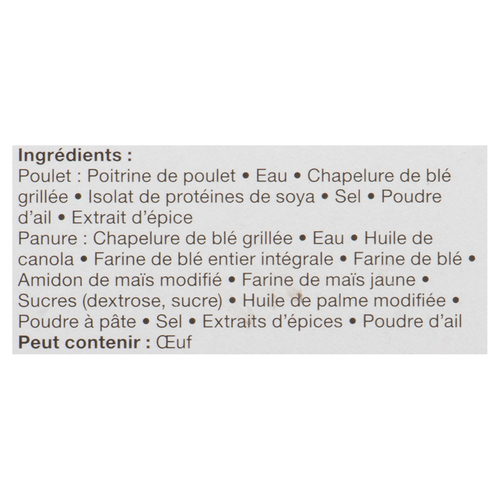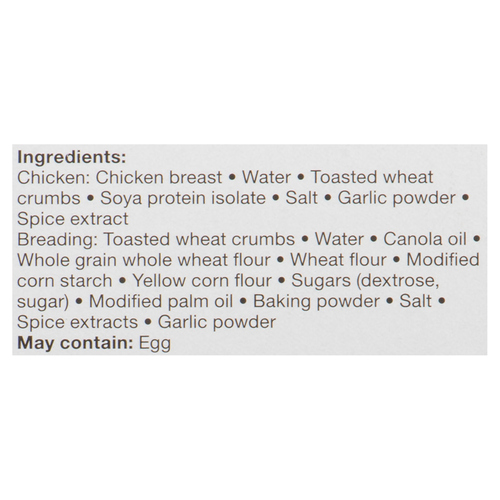 Compliments Fully Cooked Chicken Strips 1.5 kg
Product Information
Free from hydrogenated oils.
Cooking & Usage Tips
Cooking instructions Conventional oven 1 Prep cook from frozen. Remove packaging. Preheat oven to 200°C (400°F). 2 Heat place on a baking sheet and heat on the middle rack of the oven for 15-17 minutes, turning halfway until heated through. 3 Serve let stand for 2 minutes before serving. Individual appliances vary; these are guidelines only.
Ingredients
Ingredients: Chicken: Chicken breast, Water, Toasted wheat crumbs, Soya protein isolate, Salt, Garlic powder, Spice extractBreading: Toasted wheat crumbs, Water, Canola oil, Whole grain whole wheat flour, Wheat flour, Modified corn starch, Yellow corn flour, Sugars (dextrose, sugar), Modified palm oil, Baking powder, Salt, Spice extract, Garlic powder
Nutritional Information
per 1 strip (41 g)
| Amount                               | % Daily Value |
| --- | --- |
| Calories 110 | |
| Fat 6 g |                      9 % |
|  Saturated 0.5 g |                      3 % |
|  + Trans 0 g | |
|   Omega-6 0 g | |
|   Omega-3 0 g | |
|  Monounsaturated Fats 0 g | |
| Cholesterol 5 mg | |
| Sodium 170 mg |                      7 % |
| Potassium 50 mg |                      1 % |
| Carbohydrate 10 g |                      3 % |
|  Fibre 1 g |                      4 % |
|  Sugars 0 g | |
|  Sugar Alcohols 0 mg | |
| Protein 4 g | |
| Vitamin A |                      0 % |
| Vitamin C |                      0 % |
| Calcium |                      2 % |
| Iron |                      3 % |