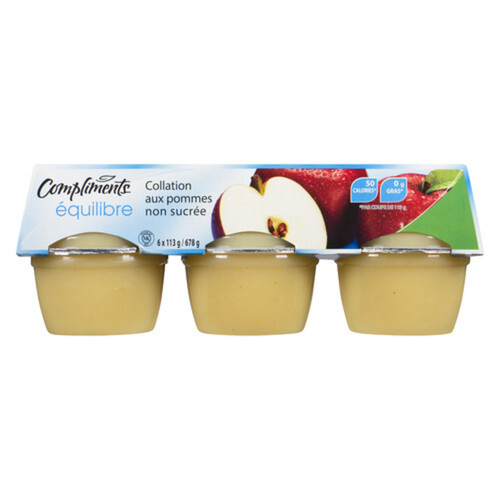 Compliments Balance Unsweetened Apple Snack Cups 6 x 113 g
6 x 113g
($0.37 per 100g)
Product Information
Good to know! Emphasizing vegetables and fruit is part of healthy eating. Compliments Balance Unsweetened Apple Snack has 40% less sugar than our regular Compliments Apple Snack. No artificial flavours or colours.
Ingredients
Ingredients: Apples, water, ascorbic acid.
Preparation And Usage
Serving Chill before serving. Natural separation may occur. Stir well before enjoying.
Nutritional Information
per 1 snack cup (113 g)
| Amount                               | % Daily Value |
| --- | --- |
| Calories 50 | |
| Fat 0 g |                      0 % |
|  Saturated 0 g |                      0 % |
|  + Trans 0 g | |
|   Omega-6 0 g | |
|   Omega-3 0 g | |
|  Monounsaturated Fats 0 g | |
| Cholesterol 0 mg | |
| Sodium 0 mg |                      0 % |
| Potassium 100 mg |                      3 % |
| Carbohydrate 14 g |                      5 % |
|  Fibre 1 g |                      4 % |
|  Sugars 11 g | |
|  Sugar Alcohols 0 mg | |
| Protein 0 g | |
| Vitamin A |                      0 % |
| Vitamin C |                      30 % |
| Calcium |                      1 % |
| Iron |                      1 % |