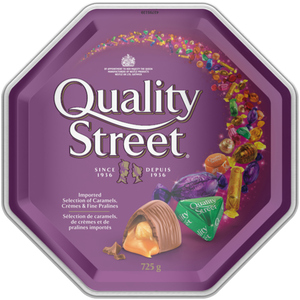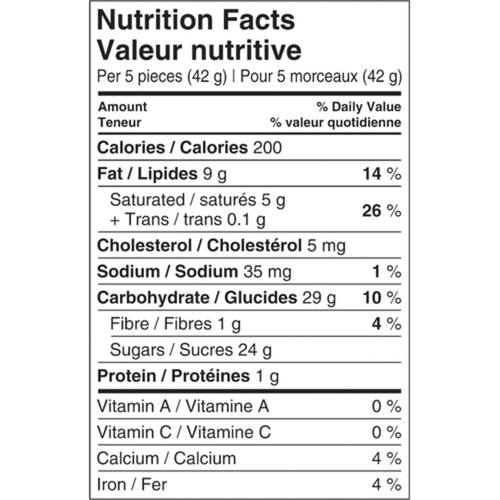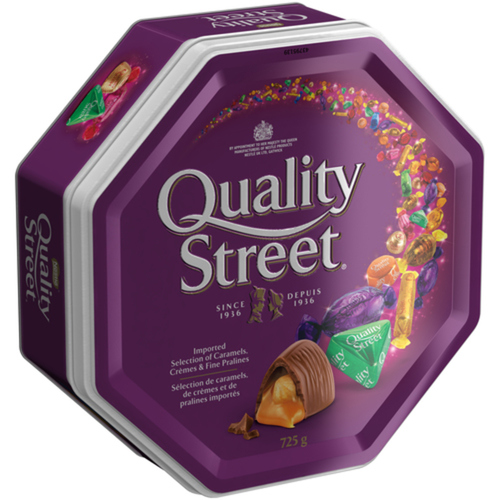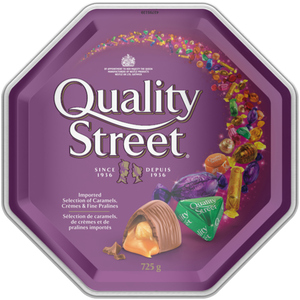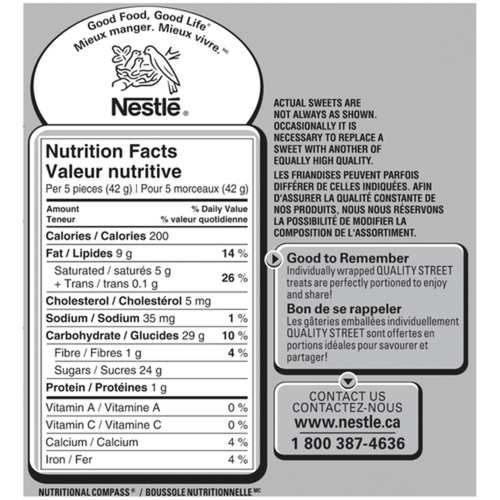 Nestlé Quality Street Caramels, Crèmes & Pralines 725 g
Product Information
Gift, open, savour, and celebrate with this tin full of tradition. Nestlé Quality Street Imported Caramels, Crèmes & Pralines (725 g) are a decadent mix of imported caramels, crèmes and pralines. This holiday classic has been a gift-giving tradition since 1936. Give it a shake, search, and sort for your favourite, but don't forget to share these exquisite holiday sweets with someone special.
Ingredients
Sugar, Modified Milk Ingredients, Glucose-Fructose, Cocoa Mass, Cocoa Butter, Palm, Coconut and Vegetable Oils, Coconut, Hazelnuts, Cocoa, Sunflower Lecithin, Salt, Monoglycerides, Lactic Acid, Glycerol, Baking Soda, Natural Flavour. May contain peanuts and other tree nuts.
Recycling Information
Recyclable.
Nutritional Information
per 3 pieces (29 g)
| Amount                               | % Daily Value |
| --- | --- |
| Calories 140 | |
| Fat 6 g |                      9 % |
|  Saturated 3.5 g |                      18 % |
|  + Trans 0 g | |
|   Omega-6 0 g | |
|   Omega-3 0 g | |
|  Monounsaturated Fats 0 g | |
| Cholesterol 0 mg | |
| Sodium 20 mg |                      1 % |
| Potassium 0 mg |                      0 % |
| Carbohydrate 20 g |                      7 % |
|  Fibre 0 g |                      0 % |
|  Sugars 16 g | |
|  Sugar Alcohols 0 mg | |
| Protein 1 g | |
| Vitamin A |                      0 % |
| Vitamin C |                      0 % |
| Calcium |                      2 % |
| Iron |                      4 % |