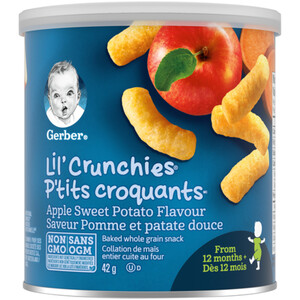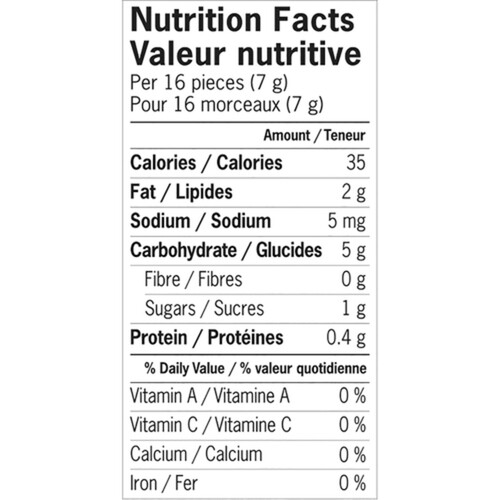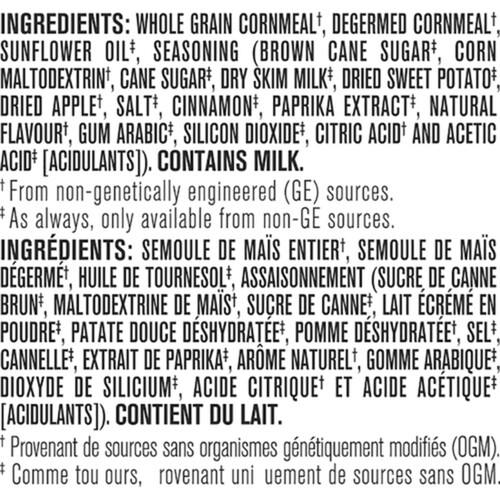 Gerber Lil' Crunchies Apple Sweet Potato 42 g
Product Information
Appropriate for toddlers 12 months and up. New look, same great taste! GERBER LIL' CRUNCHIES, Apple Sweet Potato, Toddler Snacks (42 g) are made with your little toddler in mind. They are a wholesome baked corn snack, flavoured with real apple and sweet potato and are approved by tiny taste buds! Our GERBER LIL' CRUNCHIES dissolve easily, and are perfectly shaped and sized for little toddler hands! Our recipes are lovingly made with carefully selected, 100% wholesome ingredients before being quality tested to ensure they're good enough to be called GERBER.
Storage
Keep refrigerated. Do not freeze.
Preparation And Usage
Shake well.
Nutritional Information
per per 16 pieces (7 g
| Amount                               | % Daily Value |
| --- | --- |
| Calories 35 | |
| Fat 2 g |                      3 % |
|  Saturated 0 g |                      0 % |
|  + Trans 0 g | |
|   Omega-6 0 g | |
|   Omega-3 0 g | |
|  Monounsaturated Fats 0 g | |
| Cholesterol 0 mg | |
| Sodium 5 mg |                      1 % |
| Potassium 0 mg |                      0 % |
| Carbohydrate 5 g |                      1 % |
|  Fibre 0 g |                      0 % |
|  Sugars 1 g | |
|  Sugar Alcohols 0 mg | |
| Protein 0 g | |
| Vitamin A |                      0 % |
| Vitamin C |                      0 % |
| Calcium |                      4 % |
| Iron |                      0 % |