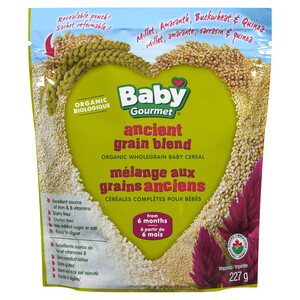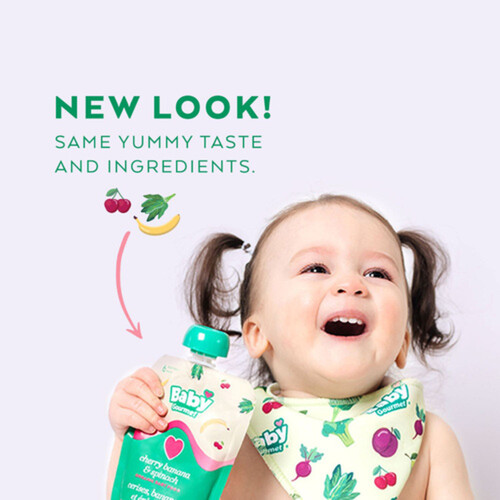 Baby Gourmet Organic Ancient Grains Blend Baby Cereal 227 g
Product Information
Serve your 6 Months + baby the goodness of ancient grains for breakfast. This organic, fortified cereal is made of millet, amaranth, buckwheat and quinoa.
Ingredients
Ingredients: Organic Millet Flour, Organic Amaranth Flour, Organic Buckwheat Flour, Organic Quinoa Flour, Electrolytic Iron, Niacinamide, Riboflavin, Thiamine Mononitrate, Organic Sunflower Lecithin
Storage
Reseal, store in cool, dry place. Use within one month of opening.
Nutritional Information
per per 8 tbsp (30 g)
| Amount                               | % Daily Value |
| --- | --- |
| Calories 110 | |
| Fat 2 g |                      2 % |
|  Saturated 0 g |                      0 % |
|  + Trans 0 g | |
|   Omega-6 0 g | |
|   Omega-3 0 g | |
|  Monounsaturated Fats 0 g | |
| Cholesterol 0 mg | |
| Sodium 2 mg |                      1 % |
| Potassium 75 mg |                      11 % |
| Carbohydrate 21 g |                      7 % |
|  Fibre 3 g |                      8 % |
|  Sugars 4 g | |
|  Sugar Alcohols 0 mg | |
| Protein 3 g | |
| Vitamin A |                      0 % |
| Vitamin C |                      0 % |
| Calcium |                      4 % |
| Iron |                      64 % |