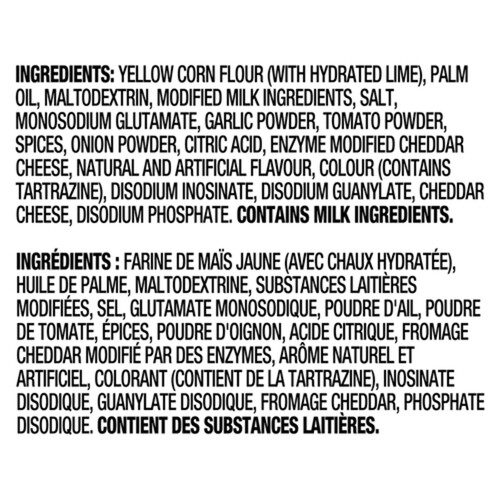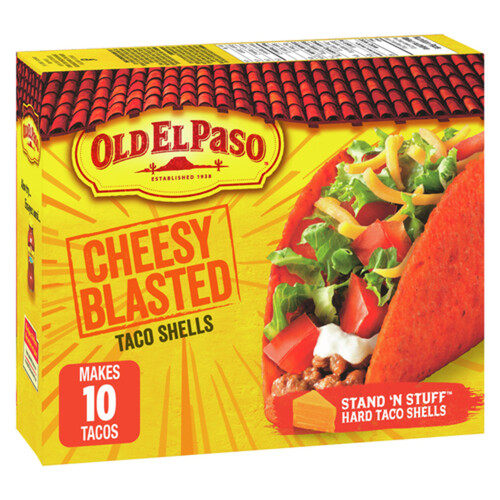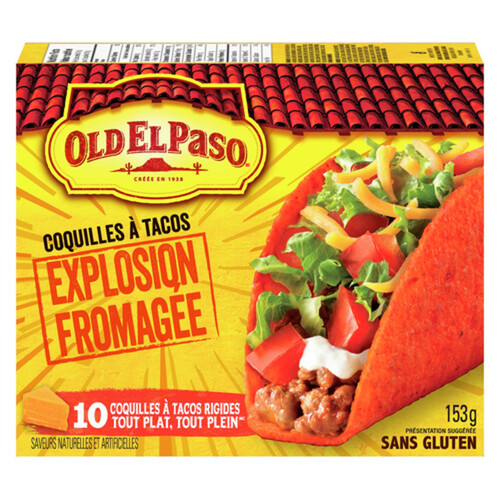 Old El Paso Taco Shells Nacho Cheese 153 g
Product Information
This is nacho average taco. Spice up taco night with Old El Paso Stand 'n Stuff Cheesy Blasted Taco Shells. Blasted for maximum cheesiness!
Cooking & Usage Tips
Oven directions: (preferred method) Heat oven to 325°F (160°C). Unwrap shells; place on cookie sheet and pull apart slightly. Bake 5 to 6 minutes until crisp. (For extra crispness, bake 1 to 2 minutes longer. Watch carefully so shells do not become too brown.) Microwave directions: Unwrap shells; place on microwavable plate. Fan out, overlapping slightly. Microwave on high 30 to 45 seconds until warm. Note: unheated shells will be chewy. Do not heat taco shells in toaster oven due to possible risk of fire. Seal leftover taco shells in food-storage plastic bag or container.
Nutritional Information
per per 2 taco shells
| Amount                               | % Daily Value |
| --- | --- |
| Calories 150 | |
| Fat 8 g |                      12 % |
|  Saturated 4 g |                      17 % |
|  + Trans 0 g | |
|   Omega-6 0 g | |
|   Omega-3 0 g | |
|  Monounsaturated Fats 0 g | |
| Cholesterol 0 mg | |
| Sodium 170 mg |                      7 % |
| Potassium 0 mg |                      0 % |
| Carbohydrate 17 g |                      6 % |
|  Fibre 1 g |                      4 % |
|  Sugars 1 g | |
|  Sugar Alcohols 0 mg | |
| Protein 2 g | |
| Vitamin A |                      0 % |
| Vitamin C |                      0 % |
| Calcium |                      4 % |
| Iron |                      4 % |