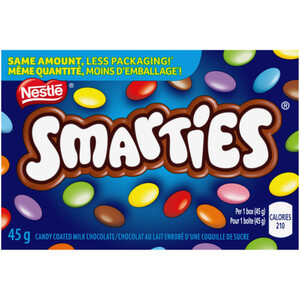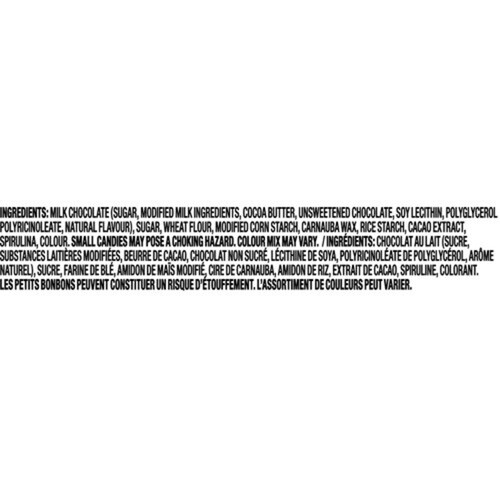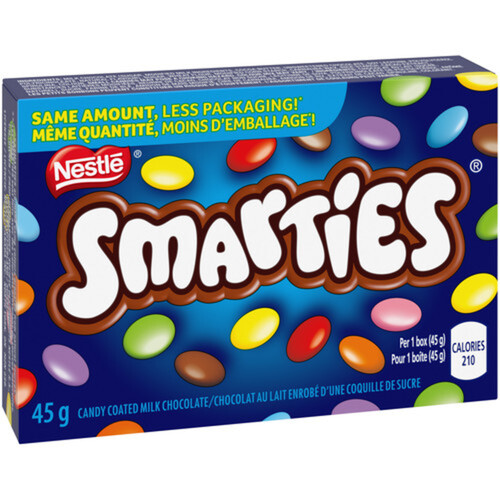 Nestlé Smarties Regular Candy Coated Milk Chocolate 45 g
Product Information
Make your day more colourful with Nestlé Smarties Candy Coated Milk Chocolate Carton (45 g). Each box contains the delicious, classic combination of milk chocolate covered in a vibrant candy shell. Made with sustainably sourced cocoa, naturally flavoured, and contain no artificial colours. Plus, they're produced in a peanut-free facility. The only question is, do you eat the red ones last?
Ingredients
Milk Chocolate (Sugar, Modified Milk Ingredients, Cocoa Butter, Cocoa Mass, Soy Lecithin, Polyglycerol Polyricinoleate, Natural Flavour), Sugar, Wheat Flour, Modified Corn Starch, Carnauba Wax, Colour.
Recycling Information
Recyclable.
Storage
Keep refrigerated. Do not freeze.
Preparation And Usage
Shake well.
Nutritional Information
per per 15 smarties (1
| Amount                               | % Daily Value |
| --- | --- |
| Calories 70 | |
| Fat 2 g |                      3 % |
|  Saturated 2 g |                      8 % |
|  + Trans 0 g | |
|   Omega-6 0 g | |
|   Omega-3 0 g | |
|  Monounsaturated Fats 0 g | |
| Cholesterol 5 mg | |
| Sodium 10 mg |                      1 % |
| Potassium 0 mg |                      0 % |
| Carbohydrate 12 g |                      4 % |
|  Fibre 0 g |                      0 % |
|  Sugars 11 g | |
|  Sugar Alcohols 0 mg | |
| Protein 1 g | |
| Vitamin A |                      0 % |
| Vitamin C |                      0 % |
| Calcium |                      2 % |
| Iron |                      2 % |