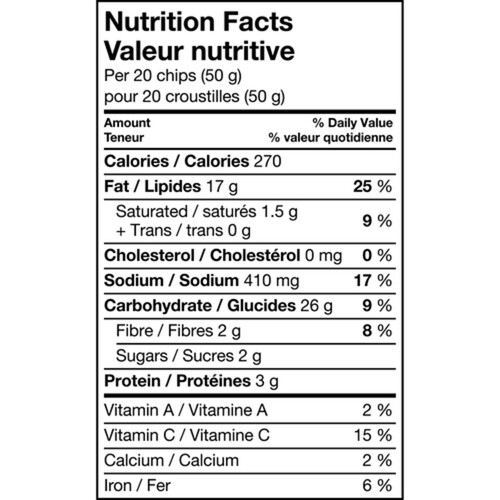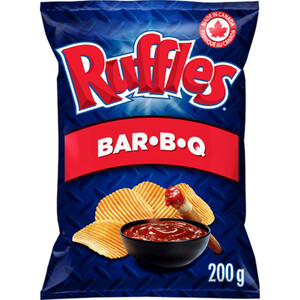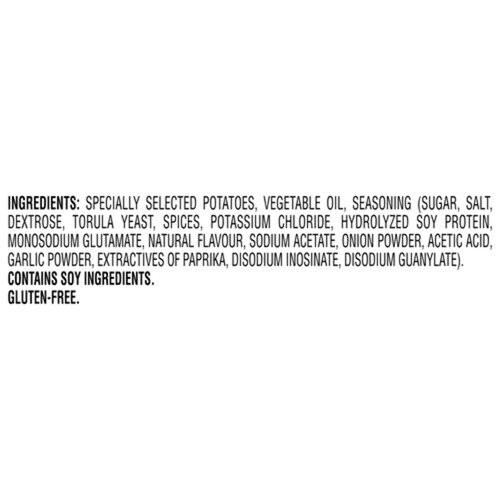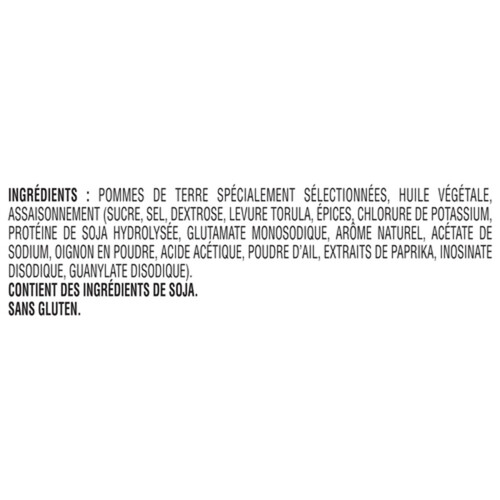 Ruffles Potato Chips Bar-B-Q 200 g
Product Information
Smokin' Gooood! Straight from the grill.The perfect weekend: You. Your buds. A smokin' grill. Sauce and ribs galore. Nothing rivals the taste of flame-grilled BBQ sauce-covered eats... until now. Ruffles* BarBQ potato chips pack a bold, BBQ sauce-flavoured kick made just right. So grab a bag and don't be afraid to lick your fingers after each bite.
Product Features
0 Trans Fat
Cooking & Usage Tips
Cooking instructions Stove top 5 minutes Stir regularly during cooking time. Microwave 1 minute / 125 ml 2 minutes / 450 ml Stir halfway through cooking. Cooking time may vary according to oven.
Ingredients
Ingredients: Specially selected potatoes, vegetable oil, seasoning (sugar, dextrose, torula yeast, spice, onion powder, monosodium glutamate, hydrolyzed soy protein, rice flour, garlic powder, sodium acetate, acetic acid, extractives of paprika, natural flavour, disodium inosinate and disodium guanylate), salt. Contains soy ingredients. Gluten-Free.
Nutritional Information
per Per 20 chips (50 g)
| Amount                               | % Daily Value |
| --- | --- |
| Calories 270 | |
| Fat 17 g |                      25 % |
|  Saturated 2 g |                      9 % |
|  + Trans 0 g | |
|   Omega-6 0 g | |
|   Omega-3 0 g | |
|  Monounsaturated Fats 0 g | |
| Cholesterol 0 mg | |
| Sodium 410 mg |                      17 % |
| Potassium 0 mg |                      0 % |
| Carbohydrate 26 g |                      9 % |
|  Fibre 2 g |                      8 % |
|  Sugars 2 g | |
|  Sugar Alcohols 0 mg | |
| Protein 3 g | |
| Vitamin A |                      2 % |
| Vitamin C |                      15 % |
| Calcium |                      2 % |
| Iron |                      6 % |