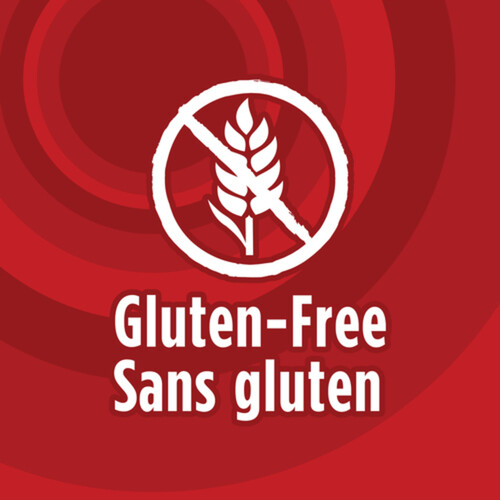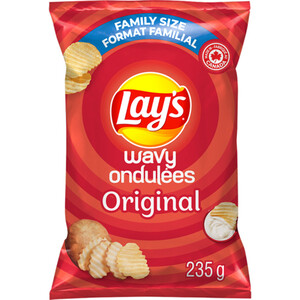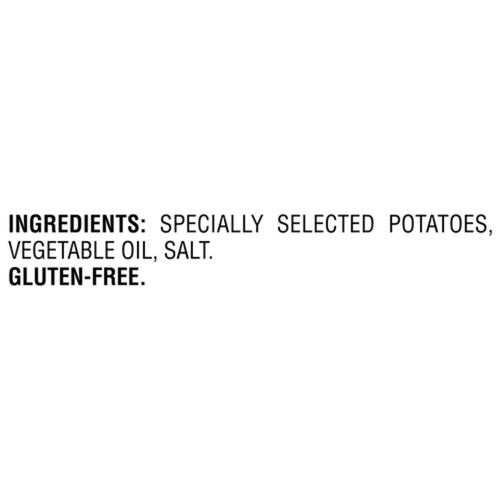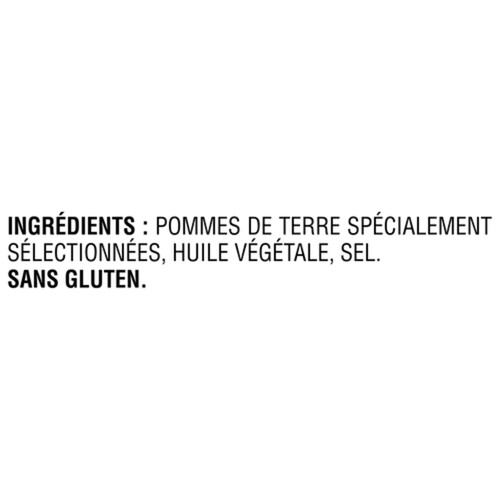 Lay's Wavy Potato Chips Original 235 g
Product Information
Wavy Lay's® potato chips have all the crispy, fresh taste made famous by Lay's® potato chips, with a Wavy crunch all their own. They feature delicate and crispy ridges, making them ideal for dipping. Wavy Lay's® Original potato chips are made with only three ingredients: potatoes, vegetable oil and salt. As a result, the classic, savoury potato chip flavour shines through and highlights the flavour of dips. Perfect at parties, Wavy Lay's® chips are great for dipping; or enjoyed on their own ! scoop up some chips and keep the party hopping!
Ingredients
Ingredients: Specially selected potatoes, vegetable oil, salt. Gluten-Free.
Storage
Keep dry When reconstituted, store in refrigerator
Preparation And Usage
Easy mixing instructions 1. To 4 measures of cold water 2. Add 1 measure of powder 3. Stir lightly with large spoon 4. After mixing keep in the refrigerator for a few hours before serving For 1 litre, mix 1 cup of powder to 4 cups of cold water. May be increased or decreased to suit taste. - For added flavour and nourishment, add an extra 1/4 cup of Pacific® Instant Skim Milk Powder per litre. - For richer flavour, mix Pacific® Instant Skim Milk Powder with an equal amount of regular milk. - For cooking, use reconstituted liquid skim milk in place of regular milk in recipes. Excellent for baking bread, cakes, biscuits, or making gravies, white sauce, cream soups, cereals.
Nutritional Information
per Per 19 chips (50 g)
| Amount                               | % Daily Value |
| --- | --- |
| Calories 280 | |
| Fat 18 g |                      28 % |
|  Saturated 2 g |                      10 % |
|  + Trans 0 g | |
|   Omega-6 0 g | |
|   Omega-3 0 g | |
|  Monounsaturated Fats 0 g | |
| Cholesterol 0 mg | |
| Sodium 250 mg |                      10 % |
| Potassium 0 mg |                      0 % |
| Carbohydrate 27 g |                      9 % |
|  Fibre 1 g |                      4 % |
|  Sugars 0 g | |
|  Sugar Alcohols 0 mg | |
| Protein 3 g | |
| Vitamin A |                      0 % |
| Vitamin C |                      20 % |
| Calcium |                      0 % |
| Iron |                      4 % |