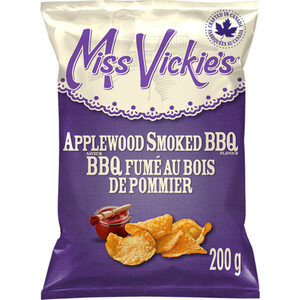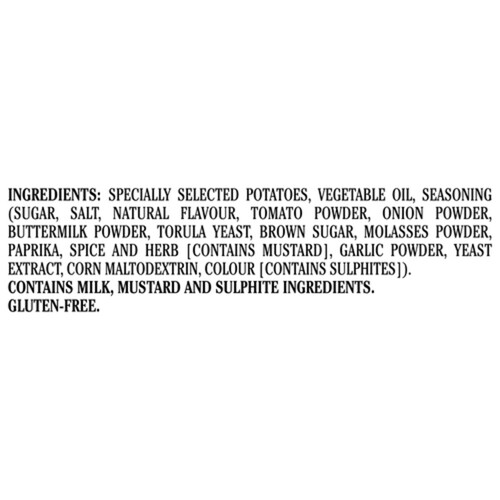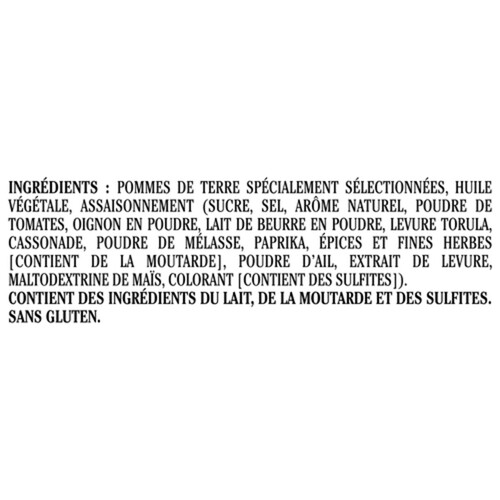 Miss Vickie's Potato Chips Kettle Cooked Applewood Smoked BBQ 200 g
Product Information
Miss Vickie's® Applewood Smoked BBQ flavour kettle cooked potato chips are made with quality ingredients for delicious tasting chips - the perfect flavour balance between sweet BBQ and applewood smoke flavour.
Product Features
No Trans Fat
Cooking & Usage Tips
Cooking instructions Stove top 5 minutes Stir regularly during cooking time. Microwave 1 minute / 125 ml 2 minutes / 450 ml Stir halfway through cooking. Cooking time may vary according to oven.
Nutritional Information
per (50 g)
| Amount                               | % Daily Value |
| --- | --- |
| Calories 270 | |
| Fat 15 g |                      23 % |
|  Saturated 2 g |                      8 % |
|  + Trans 0 g | |
|   Omega-6 0 g | |
|   Omega-3 0 g | |
|  Monounsaturated Fats 0 g | |
| Cholesterol 0 mg | |
| Sodium 220 mg |                      9 % |
| Potassium 0 mg |                      0 % |
| Carbohydrate 29 g |                      10 % |
|  Fibre 2 g |                      8 % |
|  Sugars 2 g | |
|  Sugar Alcohols 0 mg | |
| Protein 4 g | |
| Vitamin A |                      0 % |
| Vitamin C |                      20 % |
| Calcium |                      2 % |
| Iron |                      6 % |