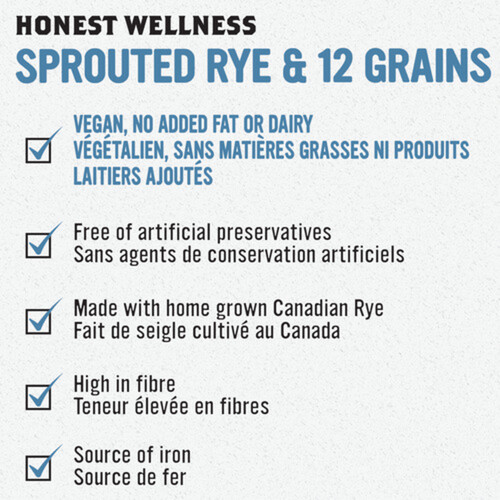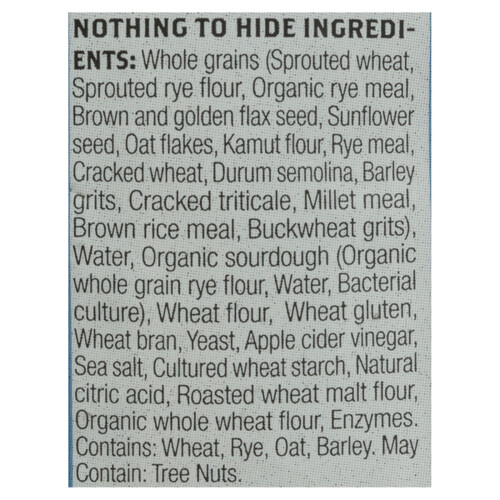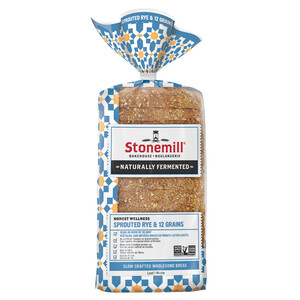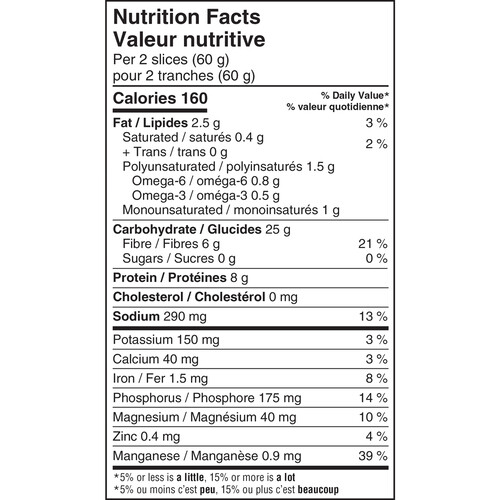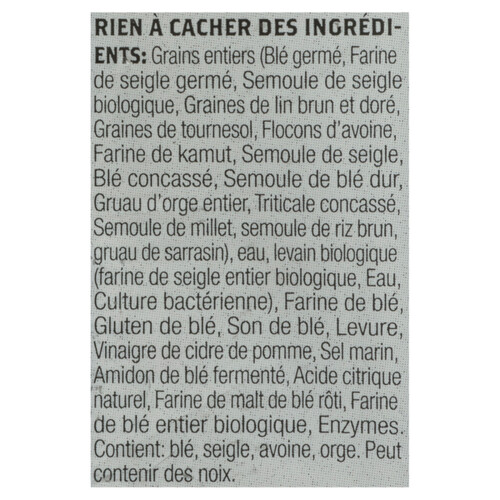 Stonemill Bakehouse Honest Wellness Sprouted Rye & 12 Grains Bread 454 g
Product Information
Bold and hearty, this sprouted rye and 12 grains bread from Stonemill® Bakehouse delivers delicious flavour in a wholesome package.
Brand
The Stonemill Bakehouse
Ingredients
Ingredients: water, sprouted durum wheat kernels, sprouted rye flour, organic sourdough (organic whole grain rye flour, water, bacterial culture), wheat gluten, enriched wheat flour, yeast, organic rye meal, wheat bran, brown flax seeds, sunflower seed, apple cider vinegar, rye meal, cracked wheat, sea salt, oat bran, organic khorasan wheat flour, golden flax seeds, cultured wheat starch/flour, durum semolina, barley grits, cracked triticale, millet meal, brown rice meal, roasted wheat malt flour, oat flakes, buckwheat grits, citric acid. may contain: soybean, tree nuts.
Nutritional Information
per 2 slices (60
| Amount                               | % Daily Value |
| --- | --- |
| Calories 160 | |
| Fat 2 g |                      3 % |
|  Saturated 0 g |                      2 % |
|  + Trans 0 g | |
|   Omega-6 1 g | |
|   Omega-3 0 g | |
|  Monounsaturated Fats 1 g | |
| Cholesterol 0 mg | |
| Sodium 290 mg |                      13 % |
| Potassium 150 mg |                      3 % |
| Carbohydrate 25 g |                      8 % |
|  Fibre 6 g |                      21 % |
|  Sugars 0 g | |
|  Sugar Alcohols 0 mg | |
| Protein 8 g | |
| Vitamin A |                      0 % |
| Vitamin C |                      0 % |
| Calcium |                      3 % |
| Iron |                      8 % |