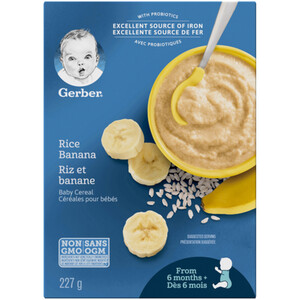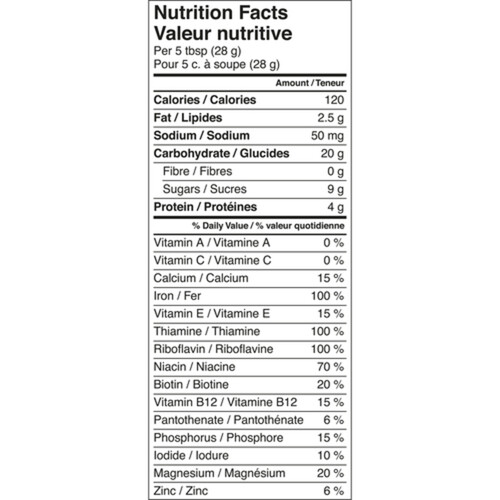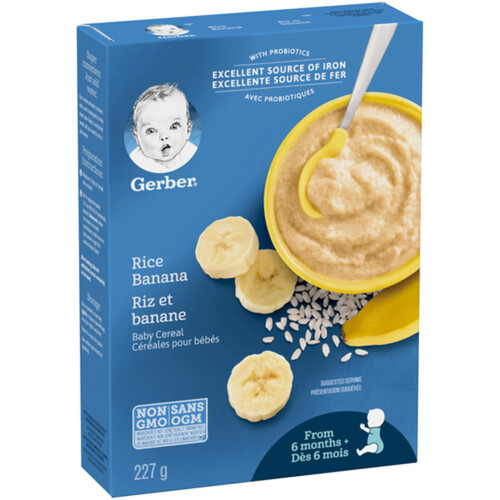 Gerber Stage 2 Baby Cereal Rice & Banana 227 g
Product Information
Gerber Stage 2 Rice & Banana Baby Cereal is an excellent source of essential nutrients for little ones 6 Months +. Each serving contains iron for normal cognitive development, calcium (bones and teeth), and probiotics (for healthy gut flora). Made with real bananas. Made with no added sugar or salt, and with no preservatives, artificial colours or flavours.
Ingredients
Ingredients: Rice Flour, Dry Skim Milk, Dried Banana, Canola Oil, High Oleic Sunflower Oil, Sunflower Oil, Bifidobacterium Lactis. Vitamins and Iron: Thiamine Mononitrate, Riboflavin, Niacinamide, Ferric Pyrophosphate. From Non-Genetically Engineered (GE) Sources. As Always, only available from non-GE sources. Contains: milk. May contain: wheat, barley, and oat.
Recycling Information
Recyclable box.
Preparation And Usage
Place on rounded teaspoon of coffee into a mug, add boiling water, stir, and enjoy.
Nutritional Information
per per 5 tbsp (28 g)
| Amount                               | % Daily Value |
| --- | --- |
| Calories 120 | |
| Fat 3 g |                      5 % |
|  Saturated 0 g |                      0 % |
|  + Trans 0 g | |
|   Omega-6 0 g | |
|   Omega-3 0 g | |
|  Monounsaturated Fats 0 g | |
| Cholesterol 0 mg | |
| Sodium 30 mg |                      1 % |
| Potassium 0 mg |                      0 % |
| Carbohydrate 20 g |                      7 % |
|  Fibre 0 g |                      0 % |
|  Sugars 10 g | |
|  Sugar Alcohols 0 mg | |
| Protein 4 g | |
| Vitamin A |                      0 % |
| Vitamin C |                      0 % |
| Calcium |                      20 % |
| Iron |                      100 % |