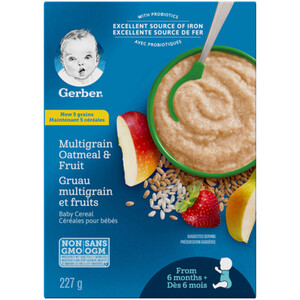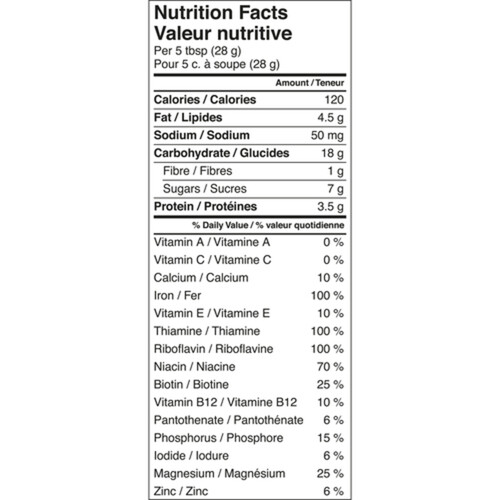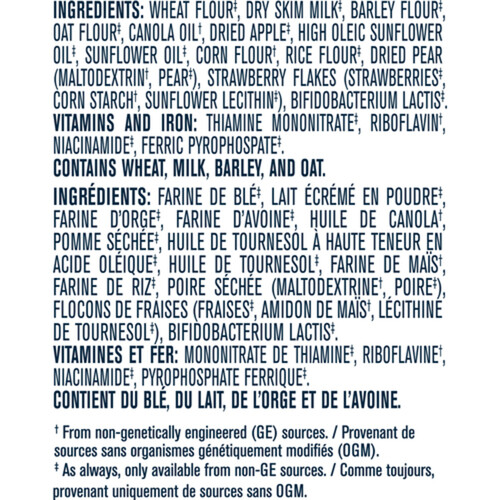 Gerber Stage 2 Baby Cereal Multigrain Oatmeal & Fruit 227 g
Product Information
Gerber Stage 2 Multigrain Oatmeal & Fruit Baby Cereal is an excellent source of essential nutrients for little ones 6 Months +. Each serving contains iron for normal cognitive development, and probiotics (for healthy gut flora). Made with real fruits. Add water for quick, convenient, & wholesome goodness. Made with no added sugar or salt, and with no preservatives, artificial colours, or flavours.
Ingredients
Ingredients: Wheat Flour, Dry Skim Milk, Barley Flour, Oat Flour, Canola Oil, Dried Apple, High Oleic Sunflower Oil, Sunflower Oil, Corn Flour†, Rice Flour, Dried Pear (Maltodextrin, Pear), Strawberry Flakes (Strawberries, Corn Starch, Sunflower Lecithin), Bifidobacterium Lactis. Vitamins and Iron: Thiamine Mononitrate, Riboflavin, Niacinamide, Ferric Pyrophosphate. From Non-Genetically Engineered (GE) Sources. As always, only available from non-GE sources. Contains: wheat, milk, barley, and oat.
Recycling Information
Recyclable box.
Preparation And Usage
Preparation Instructions:1. Measure 5 Tbsp. of cereal into a bowl.2. Stir in approximately 1/3 cup (90mL) of previously boiled, lukewarm water to create a smooth consistency. Add more or less water to get the texture baby likes!After feeding, discard unfinished cereal remaining in the bowl.
Nutritional Information
per 5 tbsp (28 g)
| Amount                               | % Daily Value |
| --- | --- |
| Calories 110 | |
| Fat 3 g |                      5 % |
|  Saturated 0 g |                      0 % |
|  + Trans 0 g | |
|   Omega-6 0 g | |
|   Omega-3 0 g | |
|  Monounsaturated Fats 0 g | |
| Cholesterol 0 mg | |
| Sodium 35 mg |                      1 % |
| Potassium 0 mg |                      0 % |
| Carbohydrate 18 g |                      6 % |
|  Fibre 1 g |                      4 % |
|  Sugars 8 g | |
|  Sugar Alcohols 0 mg | |
| Protein 4 g | |
| Vitamin A |                      0 % |
| Vitamin C |                      0 % |
| Calcium |                      20 % |
| Iron |                      100 % |