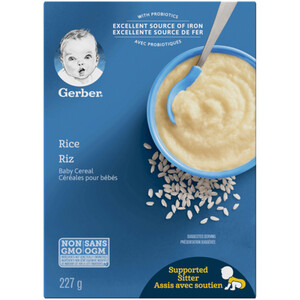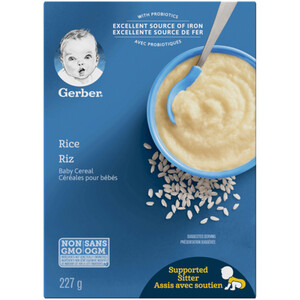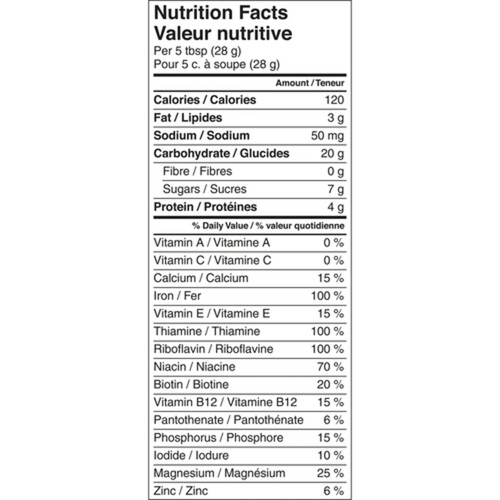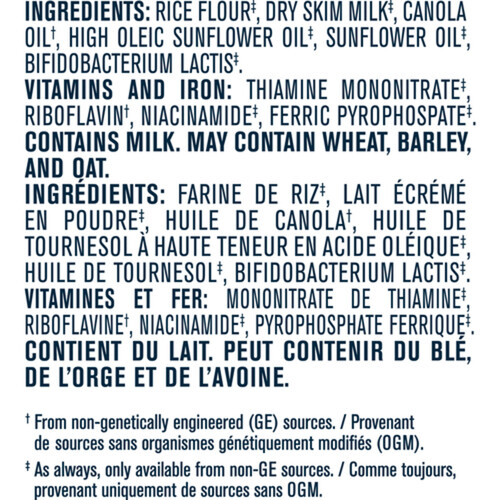 Gerber Stage 1 Baby Cereal Rice 227 g
Product Information
Gerber Stage 1 Rice Baby Cereal is an ideal first choice to introduce to your 4-6 Months + baby's developing digestive system. Each serving is full of nutrients, such as iron and calcium, and probiotics (for healthy gut flora). Made from a single grain, ensuring it is creamy, smooth, & easy-to-digest for your little one. Made with no added sugar or salt, & with no preservatives, artificial colours, or flavours.
Ingredients
Ingredients: Rice Flour, Dry Skim Milk, Canola Oil, High Oleic Sunflower Oil, Sunflower Oil, Bifidobacterium Lactis. Vitamins and Iron: Thiamine Mononitrate, Riboflavin, Niacinamide, Ferric Pyrophosphate. From Non-Genetically Engineered (GE) Sources. As always, only available from non-GE sources. Contains: milk. May contain: wheat,barley and oat.
Recycling Information
Recyclable box.
Nutritional Information
per 5 tbsp (28 g)
| Amount                               | % Daily Value |
| --- | --- |
| Calories 120 | |
| Fat 3 g |                      5 % |
|  Saturated 0 g |                      0 % |
|  + Trans 0 g | |
|   Omega-6 0 g | |
|   Omega-3 0 g | |
|  Monounsaturated Fats 0 g | |
| Cholesterol 0 mg | |
| Sodium 30 mg |                      1 % |
| Potassium 0 mg |                      0 % |
| Carbohydrate 20 g |                      7 % |
|  Fibre 0 g |                      0 % |
|  Sugars 8 g | |
|  Sugar Alcohols 0 mg | |
| Protein 4 g | |
| Vitamin A |                      0 % |
| Vitamin C |                      0 % |
| Calcium |                      20 % |
| Iron |                      100 % |