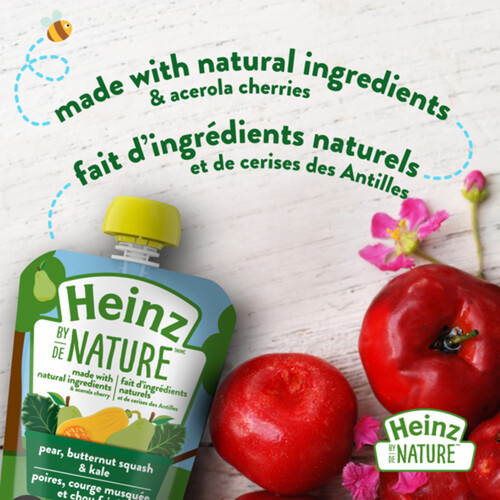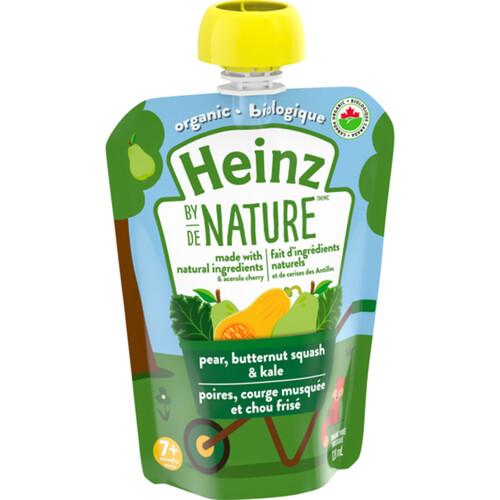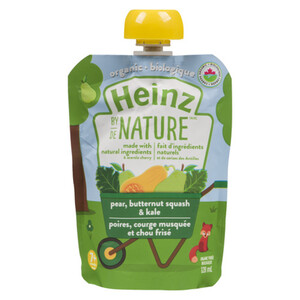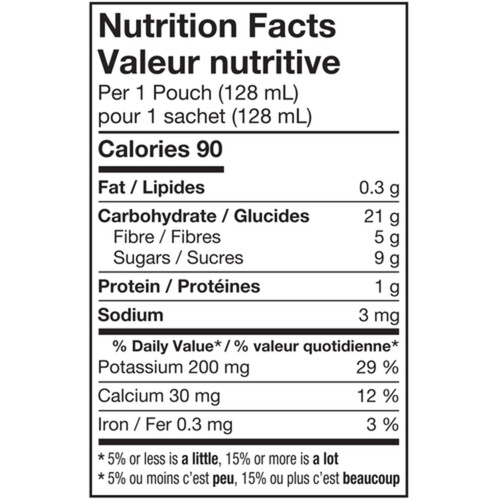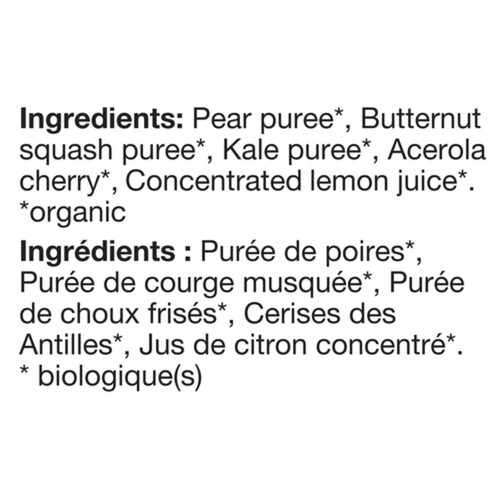 Heinz by Nature Organic Purée Baby Food Pear Butternut Squash & Kale 128 ml
Product Information
Heinz by Nature Organic Baby Food - Pear, Butternut Squash & Kale Purée is packed with nutritious ingredients and delicious flavour. We craft all of our recipes to provide your little one with silky smooth goodness. Our on-the-go creamy puree features a yummy combination of pear, butternut squash and kale. Made with nourishing flavours and containing no added sugar or salt, babies will love the taste of Heinz Baby food. With Heinz by Nature, families can feel good knowing they are feeding their baby food that is as savoury as homemade. The pouch format allows parents to feed their babies while they are on-the-go. Our purée is made for babies 7 months plus.
Product Features
Organic baby food made with natural ingredients and acerola cherry
Preparation And Usage
Serving instructions: serve at room temperature or warm pouch in hot water. DO NOT MICROWAVE POUCH. Empty content into bowl or spoon, and check temperature before serving. Refrigerate for up to 24 hours after opening.
Nutritional Information
per (140.032 g)
| Amount                               | % Daily Value |
| --- | --- |
| Calories 90 | |
| Fat 0 g |                      1 % |
|  Saturated 0 g |                      0 % |
|  + Trans 0 g | |
|   Omega-6 0 g | |
|   Omega-3 0 g | |
|  Monounsaturated Fats 0 g | |
| Cholesterol 0 mg | |
| Sodium 0 mg |                      0 % |
| Potassium 200 mg |                      6 % |
| Carbohydrate 21 g |                      7 % |
|  Fibre 6 g |                      24 % |
|  Sugars 9 g | |
|  Sugar Alcohols 0 mg | |
| Protein 1 g | |
| Vitamin A |                      10 % |
| Vitamin C |                      190 % |
| Calcium |                      2 % |
| Iron |                      2 % |