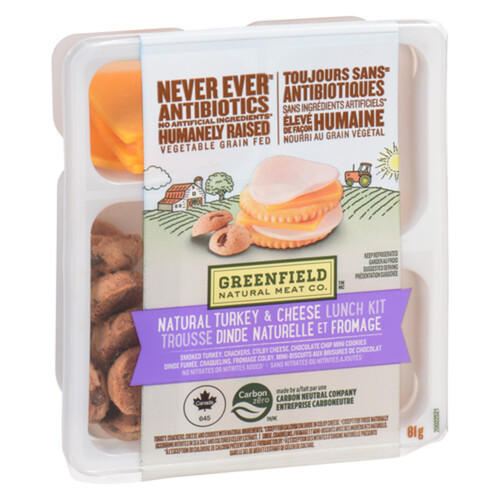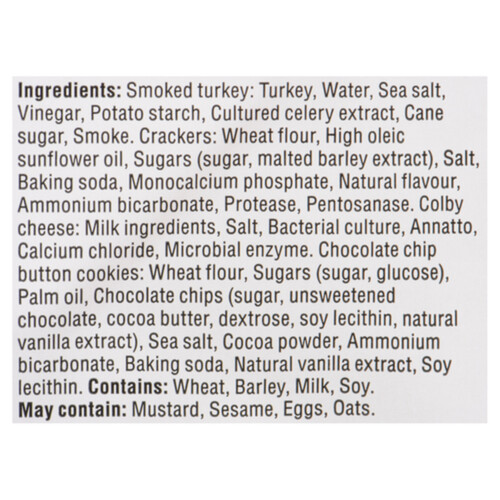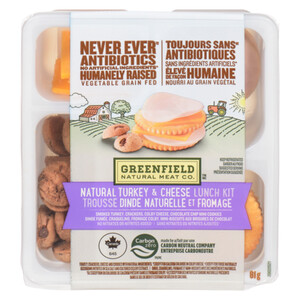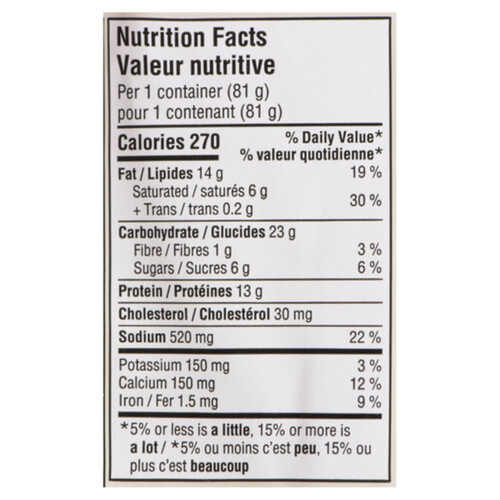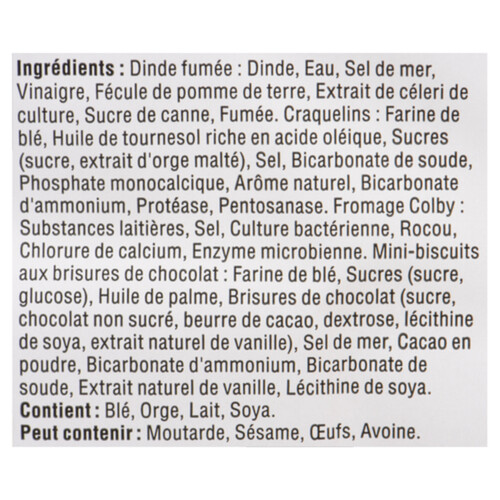 Greenfield Natural Meat Co Natural Turkey & Cheese Lunch Kit 81 g
Product Information
Greenfield Natural Meat Co. brand is on a mission to make the world better by making meat right. That's why our meats come from animals that are raised with care—gestation crate free, and no antibiotics, added hormones* or artificial ingredients. Our animals are humanely raised on Canadian farms and vegetable grain fed. Great for a quick lunch at school or home, Greenfield Natural Meat Co. Natural Turkey & Cheese Lunch Kit lets kids build their own ready-to-eat meal. This snack kit features slices of smoked turkey, Colby cheese, crackers, and mini chocolate chip cookies for dessert. These delicious and convenient lunch kits are ideal for school, sports practice, picnics, or on-the-go snacks. Dedicated to providing wholesome, real food for Canadians for generations to come, Greenfield Natural Meat Co. is part of the first major food company in the world to become carbon neutral. Join them in their commitment to build a more sustainable planet. *Like all turkey.
Brand
Greenfield Natural Meat Co.
Ingredients
Smoked Turkey: Turkey; Water; Sea Salt; Vinegar; Potato Starch; Cultured Celery Extract; Cane Sugar; Smoke. Crackers: Wheat Flour; High Oleic Sunflower Oil; Sugars (Sugar; Malted Barley Extract); Salt; Baking Soda; Monocalcium Phosphate; Natural Flavour; Ammonium Bicarbonate; Protease; Pentosanase. Colby Cheese: Milk Ingredients; Salt; Bacterial Culture; Annatto; Calcium Chloride; Microbial Enzyme. Chocolate Chip Button Cookies: Wheat Flour; Sugars (Sugar; Glucose); Palm Oil; Chocolate Chips (Sugar; Unsweetened Chocolate; Cocoa Butter; Dextrose; Soy Lecithin; Natural Vanilla Extract); Sea Salt; Cocoa Powder; Ammonium Bicarbonate; Baking Soda; Natural Vanilla Extract; Soy Lecithin. Contains: Wheat; Barley; Milk; Soy. May Contain: Mustard; Sesame; Eggs; Oats.
Nutritional Information
per 1 container (81 g)
| Amount                               | % Daily Value |
| --- | --- |
| Calories 270 | |
| Fat 14 g |                      19 % |
|  Saturated 6 g |                      30 % |
|  + Trans 0 g | |
|   Omega-6 0 g | |
|   Omega-3 0 g | |
|  Monounsaturated Fats 0 g | |
| Cholesterol 30 mg | |
| Sodium 520 mg |                      22 % |
| Potassium 150 mg |                      3 % |
| Carbohydrate 23 g |                      8 % |
|  Fibre 1 g |                      3 % |
|  Sugars 6 g | |
|  Sugar Alcohols 0 mg | |
| Protein 13 g | |
| Vitamin A |                      0 % |
| Vitamin C |                      0 % |
| Calcium |                      12 % |
| Iron |                      9 % |