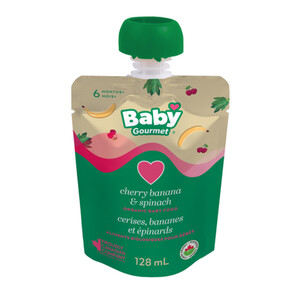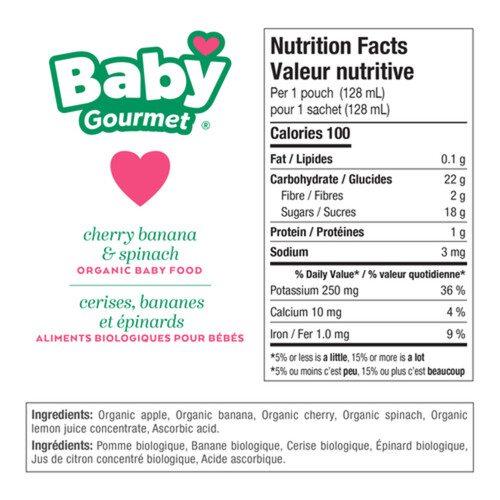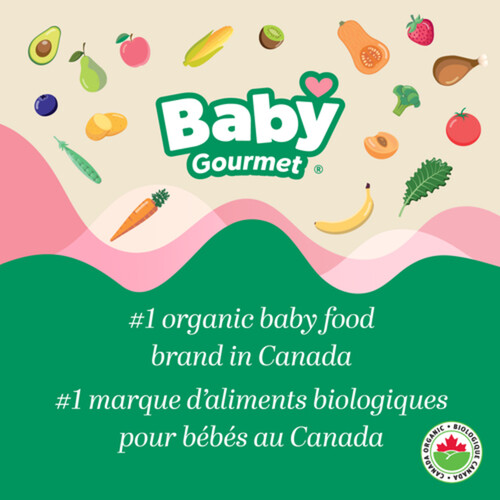 Baby Gourmet Organic Summer Cherry Banana Spinach Baby Food 128 ml
Product Information
6 Months + This smoothie-inspired recipe is bursting with the brightness of ripe cherries. With the addition of creamy banana and fresh green spinach this makes for baby's perfect first food.
Ingredients
Ingredients: Organic Apple, Organic Banana, Organic Cherry, Organic Spinach, Organic Lemon Juice Concentrate, Ascorbic Acid.
Storage
Refrigerate after opening. Consume within 24 hours.
Nutritional Information
per per 1 pouch (128 m
| Amount                               | % Daily Value |
| --- | --- |
| Calories 100 | |
| Fat 0 g |                      1 % |
|  Saturated 0 g |                      0 % |
|  + Trans 0 g | |
|   Omega-6 0 g | |
|   Omega-3 0 g | |
|  Monounsaturated Fats 0 g | |
| Cholesterol 0 mg | |
| Sodium 3 mg |                      1 % |
| Potassium 250 mg |                      36 % |
| Carbohydrate 22 g |                      7 % |
|  Fibre 2 g |                      8 % |
|  Sugars 18 g | |
|  Sugar Alcohols 0 mg | |
| Protein 1 g | |
| Vitamin A |                      0 % |
| Vitamin C |                      0 % |
| Calcium |                      4 % |
| Iron |                      9 % |