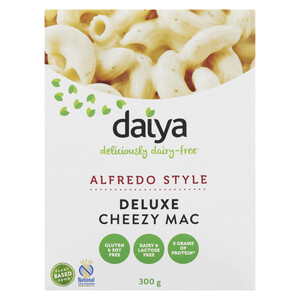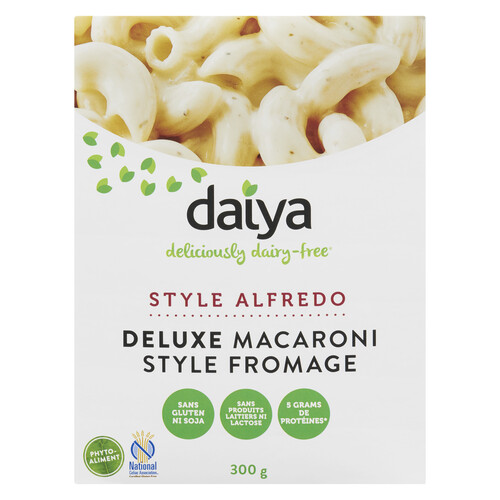 Daiya Dairy-Free Deluxe Cheezy Mac Alfredo Style 300 g
Product Information
Add the decadent flavors of classic Alfredo sauce to perfectly al dente pasta and you have the Deluxe Alfredo Style Cheezy Mac. It's so rich and creamy, your taste buds will never know it's gluten- and dairy-free. Or that it's a good source of calcium.
Cooking & Usage Tips
Instructions Boil 2 qt. (8 cups) of water in medium saucepan. Stir in macaroni pasta. Cook 7 to 8 minutes, or until tender, stirring occasionally. Drain return to saucepan, massage sauce packet to mix thoroughly. Squeeze sauce over hot macaroni. Stir until blended. Makes 3 servings. NOTE : DO NOT OVERCOOK PASTA REFRIGERATE SAUCE AFTER OPENING.
Ingredients
Ingredients: Brown rice pasta (whole grain brown rice, rice bran, water), filtered water, tapioca starch, non-GMO expeller pressed: canola and/or safflower oil, coconut oil, sea salt, vegan natural flavours, pea protein isolate, tricalcium phosphate, cane sugar, lactic acid (vegan), xanthan gum, yeast extract, titanium dioxide (naturally occurring mineral), annatto (colour), onion.
Nutritional Information
per per 1/3 package (
| Amount                               | % Daily Value |
| --- | --- |
| Calories 290 | |
| Fat 9 g |                      14 % |
|  Saturated 4 g |                      18 % |
|  + Trans 0 g | |
|   Omega-6 0 g | |
|   Omega-3 0 g | |
|  Monounsaturated Fats 0 g | |
| Cholesterol 0 mg | |
| Sodium 580 mg |                      24 % |
| Potassium 0 mg |                      0 % |
| Carbohydrate 49 g |                      16 % |
|  Fibre 2 g |                      8 % |
|  Sugars 1 g | |
|  Sugar Alcohols 0 mg | |
| Protein 4 g | |
| Vitamin A |                      0 % |
| Vitamin C |                      0 % |
| Calcium |                      15 % |
| Iron |                      6 % |