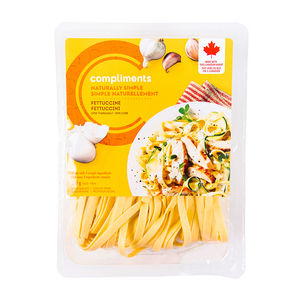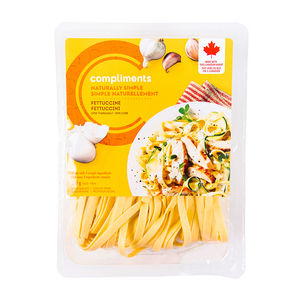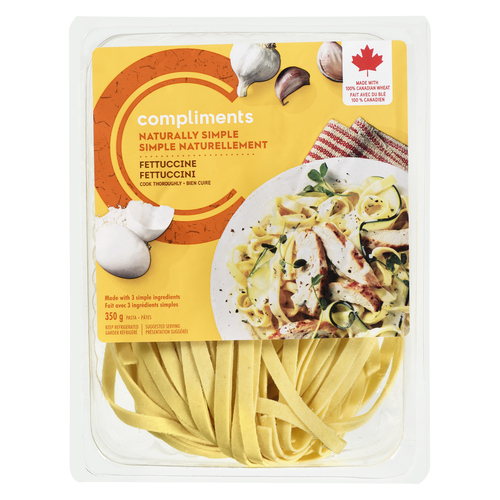 Compliments Naturally Simple Fettuccine Pasta 350 g
Product Information
Made with 3 simple ingredients.
Brand
Compliments Naturally Simple
Cooking & Usage Tips
Cooking instructions Stove top: 1. Prep in a large saucepan, bring 2 L (2 qt) of water and 5 ml (1 tsp) of salt to a rapid boil. 2. Cook add the pasta and cook, uncovered, for 4-6 minutes, occasionally stirring gently. Drain well. For best results, immediately add heated sauce or your favourite topping. 3. Serve immediately.
Nutritional Information
per 1 1/2 cups (140g)
| Amount                               | % Daily Value |
| --- | --- |
| Calories 390 | |
| Fat 2.5 g |                      3 % |
|  Saturated 0.5 g |                      0 % |
|  + Trans 0 g | |
|   Omega-6 0 g | |
|   Omega-3 0 g | |
|  Monounsaturated Fats 0 g | |
| Cholesterol 55 mg | |
| Sodium 25 mg |                      1 % |
| Potassium 250 mg |                      5 % |
| Carbohydrate 75 g |                      0 % |
|  Fibre 4 g |                      14 % |
|  Sugars 1 g | |
|  Sugar Alcohols 0 mg | |
| Protein 19 g | |
| Vitamin A |                      0 % |
| Vitamin C |                      0 % |
| Calcium |                      2 % |
| Iron |                      28 % |