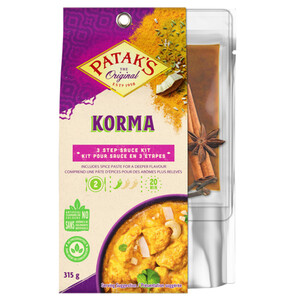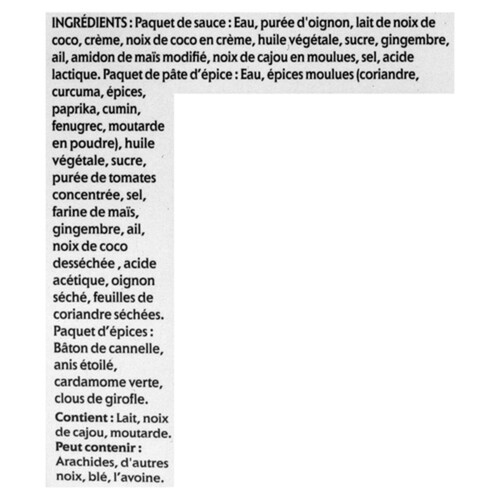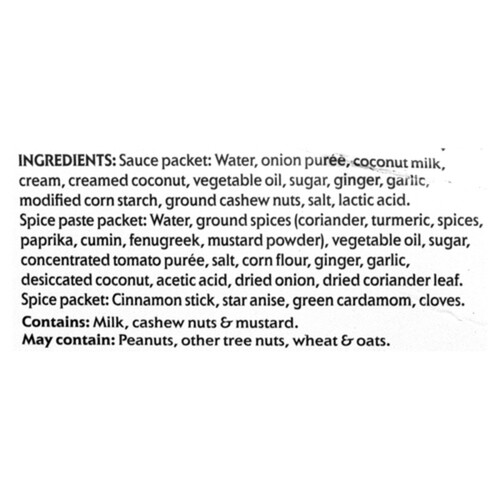 Patak's 3-Step Cooking Sauce Kit Korma 315 g
Product Information
With Patak's® Korma Cooking Sauce Kit 3-Step, it's easy to create a premium-quality, authentic Indian curry dish at home in just 3 simple steps. This mild and creamy coconut sauce, is inspired by northern Indian cuisine, and has a rich and delicate spice blend to bring your authentic curry dish together in just a few minutes. Each kit has 3 packs of pre-measured ingredients, simply add chicken, shrimp, or vegetables, and enjoy with basmati rice or naan bread. Included: fragrant whole spices, Korma curry spice paste for big flavour, and a base sauce. Available in 2 other delicious varieties: Butter Chicken and Tikka Masala. Each package conveniently serves 2. No Artificial Flavours or Colours. Suitable for Vegetarians.
Cooking & Usage Tips
Korma curry in 3 simple steps - Serves 2 300 g diced chicken thigh OR 1 cup cubed paneer & 1 ¼ cup cauliflower florets 1 tbsp vegetable oil 50 ml of water 1. FRY the whole spices in a hot oil for 20 SECONDS. 2. ADD the SPICE PASTE and sizzle to release flavours (2 MINS). Add 50 ml water and simmer until water has evaporated. Add meat or vegetables and cook until sealed. 3. STIR in the sauce and simmer for 15 MINS or until the meat or vegetables are cooked through.
Ingredients
Sauce packet (water, onion purée, cream, coconut cream, vegetable oil, desiccated coconut, modified corn starch, sugar, ginger purée, garlic purée, salt, lactic acid (acidulant)), Paste packet (water, spices, herbs, vegetable oil, sugar, concentrated tomato purée, salt, corn flour, ginger purée, garlic purée, desiccated coconut, acetic acid (acidulant), dried onion, dried coriander), Spice packet (cinnamon stick, star anise, green cardamom, cloves).
Nutritional Information
per per 1/2 package (1
| Amount                               | % Daily Value |
| --- | --- |
| Calories 200 | |
| Fat 10 g |                      13 % |
|  Saturated 6 g |                      30 % |
|  + Trans 0 g | |
|   Omega-6 0 g | |
|   Omega-3 0 g | |
|  Monounsaturated Fats 0 g | |
| Cholesterol 10 mg | |
| Sodium 840 mg |                      37 % |
| Potassium 250 mg |                      5 % |
| Carbohydrate 18 g |                      6 % |
|  Fibre 9 g |                      32 % |
|  Sugars 7 g | |
|  Sugar Alcohols 0 mg | |
| Protein 3 g | |
| Vitamin A |                      0 % |
| Vitamin C |                      0 % |
| Calcium |                      6 % |
| Iron |                      8 % |