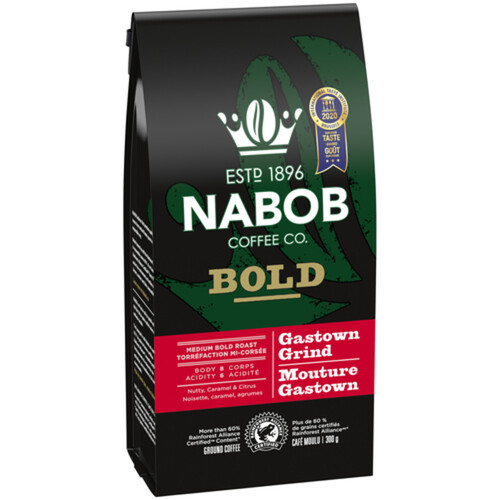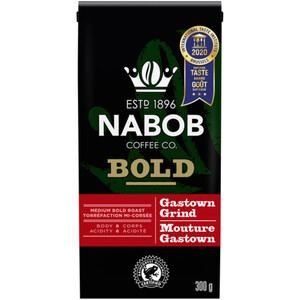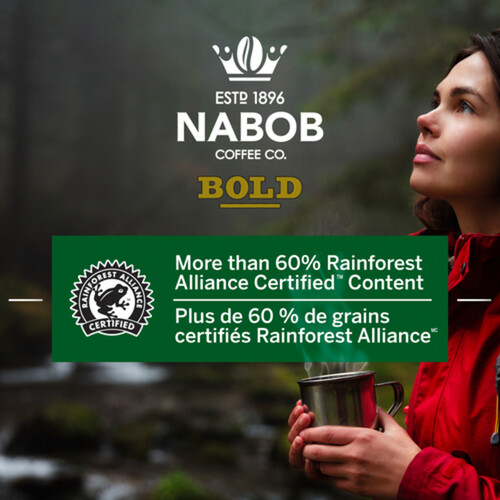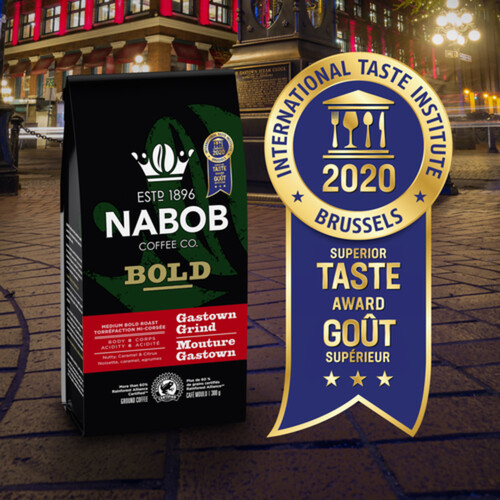 Nabob Bold Gastown Grind Ground Coffee 300 g
Product Information
Wake up to the perfect cup of coffee with Nabob Bold Gastown Grind Ground Coffee. Our new Gastown Grind blend is a bold brew full of nutty and caramelly flavours roasted to perfection. Made with 100% Arabica beans, our medium roast coffee, is expertly roasted for an incredible smooth, velvety taste. With a rich level of acidity and a vibrant caramel flavour, Nabob Bold Ground Coffee is always an excellent choice. Great coffee is more than just a passion to us; it's a tradition. One we've upheld since 1896 and one we honour with a commitment to the environment and community, as our Bold Gastown Grind Ground Coffee contains more than 60% Rainforest Alliance Certified Content. We continue to fuel our passion for coffee, our communities and the environment. Better Beans, Better Coffee.
Product Features
One 300 g bag of Nabob Bold Gastown Grind Ground Coffee
Ingredients
Water, Malic Acid, Citric Acid, Artificial And Natural Flavour, Acacia Gum, Sucralose (47 Mg*), Potassium Citrate, Acesulfame-Potassium (20 Mg*), Saib, Colour, Potassium Sorbate. *Per 2.0 Ml Serving.
Nutritional Information
per 100 GR
| Amount                               | % Daily Value |
| --- | --- |
| Calories 0 | |
| Fat 0 g |                      0 % |
|  Saturated 0 g |                      0 % |
|  + Trans 0 g | |
|   Omega-6 0 g | |
|   Omega-3 0 g | |
|  Monounsaturated Fats 0 g | |
| Cholesterol 0 mg | |
| Sodium 0 mg |                      0 % |
| Potassium 0 mg |                      0 % |
| Carbohydrate 0 g |                      0 % |
|  Fibre 0 g |                      0 % |
|  Sugars 0 g | |
|  Sugar Alcohols 0 mg | |
| Protein 0 g | |
| Vitamin A |                      0 % |
| Vitamin C |                      0 % |
| Calcium |                      0 % |
| Iron |                      0 % |