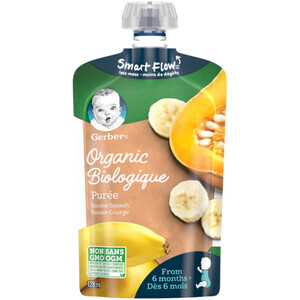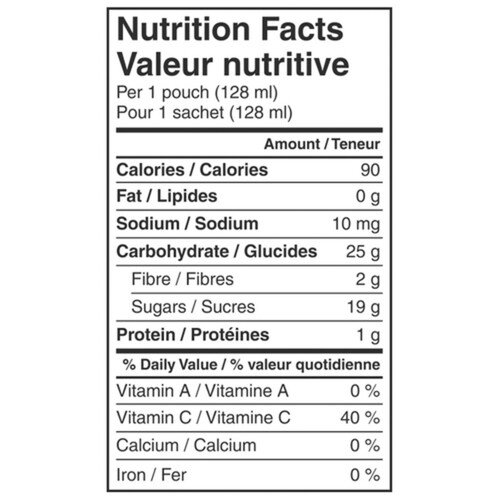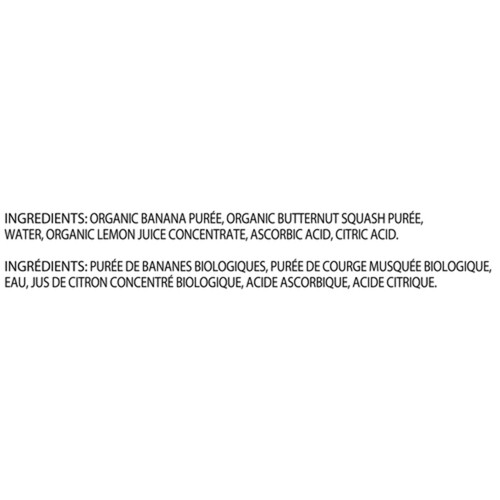 Nestle Gerber Organic Purée Banana & Squash 128 ml
Product Information
6 Months + Introduce your little one to the goodness of fruits and veggies with Gerber Organic Banana & Squash Purée. The Smart Flow™ spout helps get more food on that little spoon and less everywhere else, so mealtime should become a more nutritious, less messy experience. It also gives toddlers big control when they're learning to self-feed.
Ingredients
Ingredients: Organic Banana Purée, Organic Butternut Squash Purée, Water, Organic Lemon Juice Concentrate, Ascorbic Acid, Citric Acid.
Preparation And Usage
Place on rounded teaspoon of coffee into a mug, add boiling water, stir, and enjoy.
Nutritional Information
per per 1 pouch (128 m
| Amount                               | % Daily Value |
| --- | --- |
| Calories 90 | |
| Fat 0 g |                      0 % |
|  Saturated 0 g |                      0 % |
|  + Trans 0 g | |
|   Omega-6 0 g | |
|   Omega-3 0 g | |
|  Monounsaturated Fats 0 g | |
| Cholesterol 0 mg | |
| Sodium 10 mg |                      1 % |
| Potassium 0 mg |                      0 % |
| Carbohydrate 25 g |                      8 % |
|  Fibre 2 g |                      8 % |
|  Sugars 19 g | |
|  Sugar Alcohols 0 mg | |
| Protein 1 g | |
| Vitamin A |                      0 % |
| Vitamin C |                      40 % |
| Calcium |                      0 % |
| Iron |                      0 % |