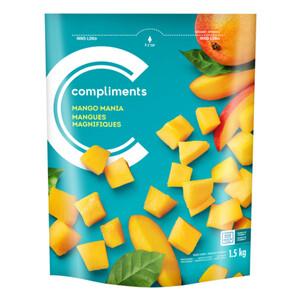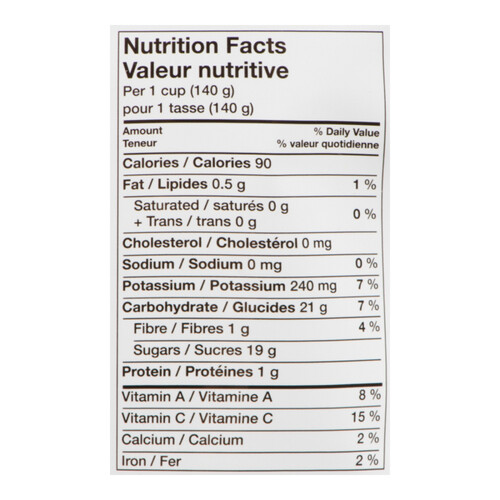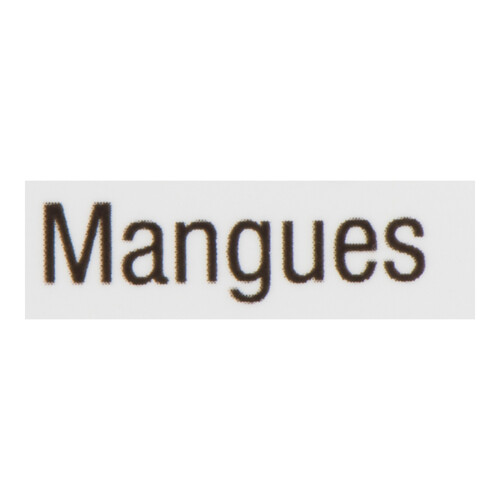 Compliments Mango Frozen Fruit 1.5 kg
Product Information
Compliments Mango Mania is frozen chunks of mango sweetness to add to smoothies, salads or salsas in a snap.
Cooking & Usage Tips
Use in place of fresh fruit in your favourite recipes: smoothies, milk shakes, pies, truffles, muffins, coulis and more! This fruit is best used frozen or immediately after thawing. Thaw as much fruit as needed in the refrigerator.
Ingredients
Ingredients: Mangos
Nutritional Information
per 1 cup (140 g)
| Amount                               | % Daily Value |
| --- | --- |
| Calories 90 | |
| Fat 0 g |                      1 % |
|  Saturated 0 g |                      0 % |
|  + Trans 0 g | |
|   Omega-6 0 g | |
|   Omega-3 0 g | |
|  Monounsaturated Fats 0 g | |
| Cholesterol 0 mg | |
| Sodium 0 mg |                      0 % |
| Potassium 225 mg |                      6 % |
| Carbohydrate 21 g |                      7 % |
|  Fibre 2 g |                      8 % |
|  Sugars 19 g | |
|  Sugar Alcohols 0 mg | |
| Protein 1 g | |
| Vitamin A |                      0 % |
| Vitamin C |                      10 % |
| Calcium |                      2 % |
| Iron |                      1 % |