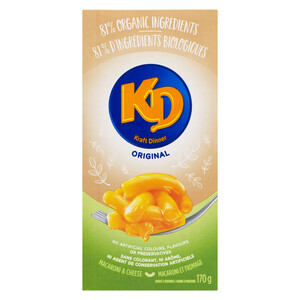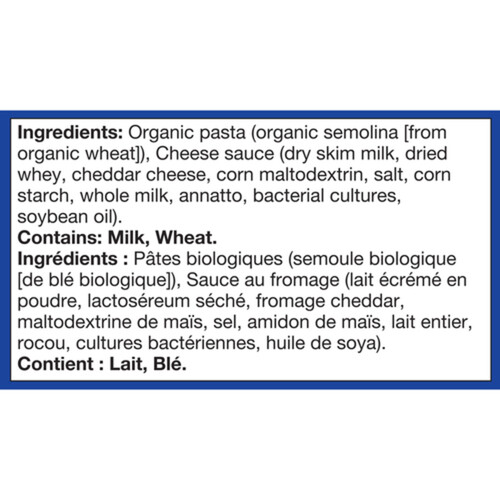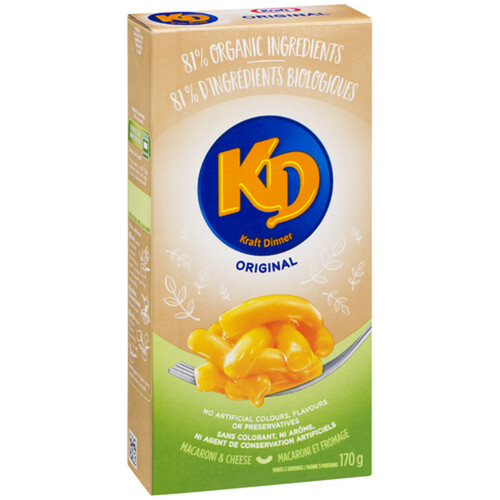 Kraft Dinner Simply Macaroni & Cheese - Original 170 g
Product Information
Introducing New KD Simply - a must have food for Canadian Families! KD brings Mac & Cheese made with 81% Organic ingredients and the cheesy KD taste you love! KD Organic Original is made with 81% Organic Ingredients. Each box is made with No Artificial Colours, Flavours or Preservatives.
Product Features
Cheesy KD taste you know and love
Cooking & Usage Tips
Make 3 servings, 2/3 cup each. Stove top directions Simply start with: 6 cups water, 1 - 1/2 tbsp. unsalted butter, 1/4 cup 1% partly skimmed milk Make it delicious: 1 Boil water in medium saucepan. Stir in pasta; cook 7 to 8 min. or until tender, stirring occasionally. 2 Drain. Do not rinse. Return to pan. 3 Add butter, milk and cheese sauce mix; mix well. Use organic: Prepare using organic butter and milk.
Ingredients
Soybean Oil, White Vinegar, Sugar/Glucose-Fructose, Tomato Puree, Salt, Liquid Yolks (Eggs), Natural Flavours (Contains Egg), Liquid Whole Eggs, Spices, Potassium Sorbate, Sodium Benzoate, Concentrated Lemon Juice, Xanthan Gum, Modified Corn Starch, Paprika Extract (Colour), Calcium Disodium Edta.
Nutritional Information
per 1/3 Box (57 g) / Ab
| Amount                               | % Daily Value |
| --- | --- |
| Calories 200 | |
| Fat 2 g |                      3 % |
|  Saturated 0 g |                      4 % |
|  + Trans 0 g | |
|   Omega-6 0 g | |
|   Omega-3 0 g | |
|  Monounsaturated Fats 0 g | |
| Cholesterol 5 mg | |
| Sodium 420 mg |                      17 % |
| Potassium 0 mg |                      0 % |
| Carbohydrate 40 g |                      13 % |
|  Fibre 1 g |                      4 % |
|  Sugars 5 g | |
|  Sugar Alcohols 0 mg | |
| Protein 8 g | |
| Vitamin A |                      0 % |
| Vitamin C |                      0 % |
| Calcium |                      8 % |
| Iron |                      4 % |