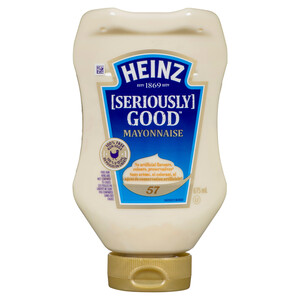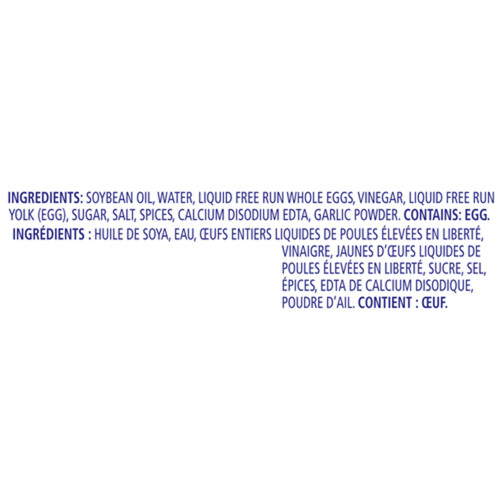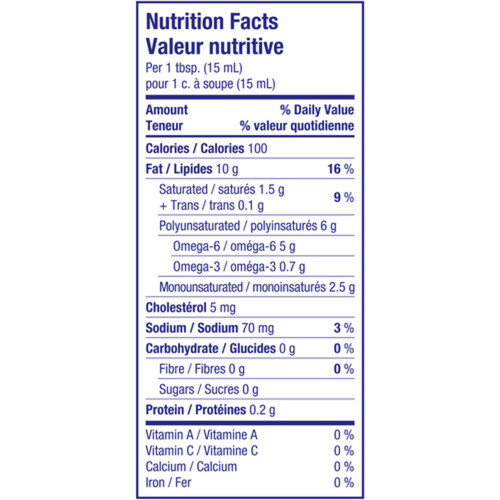 Heinz [Seriously] Good Mayonnaise 675 ml
Product Information
Deliciously rich and creamy, Heinz [Seriously] Good Mayonnaise is made with the highest quality ingredients, such as free run eggs, and absolutely no artificial flavours or colours. This is the Heinz Ketchup of Mayonnaise and it's [Seriously] good.
Brand
Heinz [Seriously] Good
Product Features
Rich, creamy and smooth texture
Ingredients
Water, Soybean Oil, Sugar, Vinegar, Egg Yolks, Salt, Mustard, Xanthan Gum (Thickener), Propylene Glycol Alginate (Thickener), Potassium Sorbate (Maintains Quality), Polysorbate 60 (Prevents Oil Separation), Colour, Spices And Seasonings, Calcium Disodium Edta (Maintains Flavour).
Storage
Refrigerate after opening
Nutritional Information
per (13.35 g)
| Amount                               | % Daily Value |
| --- | --- |
| Calories 100 | |
| Fat 10 g |                      16 % |
|  Saturated 2 g |                      0 % |
|  + Trans 0 g | |
|   Omega-6 5 g | |
|   Omega-3 0 g | |
|  Monounsaturated Fats 2 g | |
| Cholesterol 5 mg | |
| Sodium 70 mg |                      3 % |
| Potassium 0 mg |                      0 % |
| Carbohydrate 0 g |                      0 % |
|  Fibre 0 g |                      0 % |
|  Sugars 0 g | |
|  Sugar Alcohols 0 mg | |
| Protein 0 g | |
| Vitamin A |                      0 % |
| Vitamin C |                      0 % |
| Calcium |                      0 % |
| Iron |                      0 % |